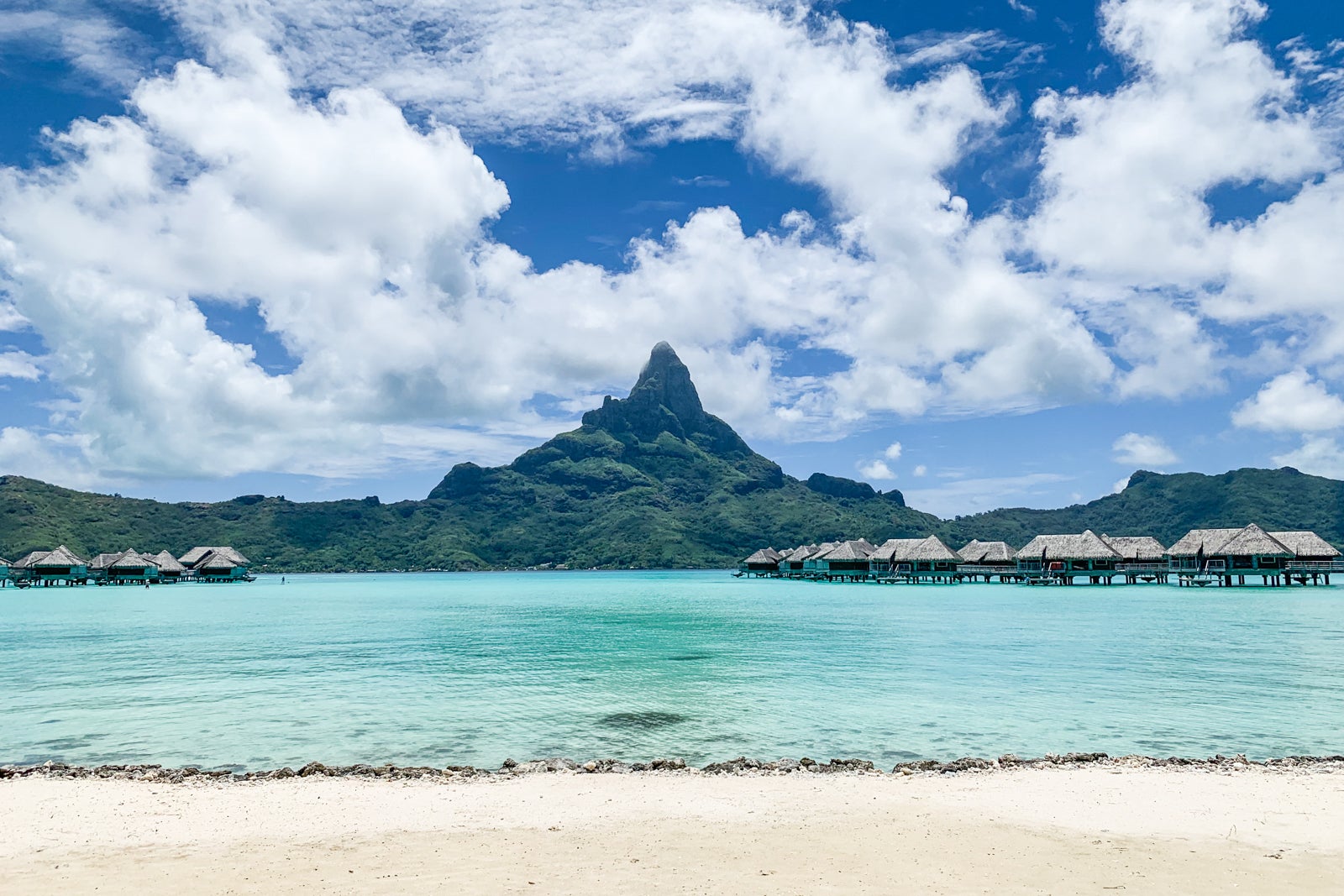 Which should you choose? 5 top Bora Bora resorts and how to book
Editor's note: Tahiti Tourism provided TPG with a free trip to French Polynesia as the country reopened during the COVID-19 pandemic. The opinions are entirely the author's and weren't subject to review by Tahiti Tourism or any external entity.
---
When I joined the TPG team back in 2019, one destination at the top of my bucket list was French Polynesia. Unfortunately, COVID-19 had other plans.
I scheduled and then had to cancel trips to Tahiti several times throughout the pandemic. Once the country finally reopened to international travel, I was able to nail down dates and change my airline tickets. Tahiti Tourism offered to help with arrangements and accommodations on the ground. While we normally make all our own travel bookings, given the circumstances and uncertainty of pandemic-related restrictions, I agreed to their help.
Get the latest points, miles and travel news by signing up for TPG's free daily newsletter.
During my nearly two-week visit, I spent time in Bora Bora, Moorea, Rangiroa and Tahiti. While all four islands were memorable, I found one to be particularly captivating: Bora Bora.
Despite having lofty expectations for this dreamy destination, the atoll — including its accommodations — managed to sail past the high bar I had set in my mind. Here's a look at five of the top resorts on Bora Bora for every type of traveler.
For many visitors, one of the main draws of Bora Bora is the opportunity to stay in a dreamy overwater bungalow or a cliffside villa with sweeping ocean panoramas. I found no shortage of luxurious accommodations throughout my stay as I hopped from resort to resort. Here were some of my favorites, along with what they offer different types of travelers.
Conrad Bora Bora Nui
Best for: Hilton Honors loyalists and solo travelers seeking privacy
I spent two nights at the Conrad Bora Bora Nui, a stunning property with a mix of overwater bungalows and cliffside rooms facing the Pacific Ocean. Rates here start at $1,060 or 120,000 Hilton Honors points per night.
The hilltop villa I was assigned comprised a balcony with a small pool that was perfect for quick dips to cool off on a hot day, not to mention panoramic views of the azure and turquoise ocean currents drifting away in the distance. The interior included a huge living area, palatial bathroom and a canopied bed that epitomized tropical elegance. My calls to the "Conrad Service" button on the room phone were always answered promptly, and had there not been so much to do around the resort and the lagoon, I might have just spent my entire stay in my villa.
Sign up for our daily newsletter
1 of 15
(Photo by Clint Henderson/The Points Guy)
As luck would have it, two old friends of mine happened to be staying at the Conrad, too, so they showed me around their overwater bungalow. Their room had a balcony with a sun deck and a plunge pool that was larger than the one in my villa, and they could climb right down into the lagoon.
1 of 10
(Photo by Clint Henderson/The Points Guy)
My friends and I tried several of the property's restaurants and bars, including Banyan, a contemporary restaurant serving satisfying (albeit unexciting) Chinese fare, but it was Tamure Beach Grill I enjoyed most.
Guests dine right on the beach, enjoying a Polynesian dance show and buffet-style dishes like tangy poison cru (fish marinated in lemon juice, coconut milk and various vegetables) and roasted pig cooked in a traditional underground oven and presented during a dramatic ceremony at sunset.
1 of 10
(Photo by Clint Henderson/The Points Guy)
Since I only spent a few days at the property, I didn't get a chance to try the majority of the on-site amenities, such as the Hina Spa or the 24-hour fitness center, but I did make the most of my Diamond status in the Hilton Honors program. In addition to receiving late checkout on request, free bottled water, 1,000 complimentary Hilton Honors points, access to premium Wi-Fi and free continental breakfast every day of my stay, I had exclusive access to a special "Hilton Honors beach" where I spent a decent amount of my downtime.
Few things instantly put your mind at ease like the sound of water gently lapping the shore with warm sand between your toes and the sun shining down on you.
Related: Best French Polynesia hotels to book with 4th night free or points
Four Seasons Resort Bora Bora
Best for: Luxury leisure travelers and couples
I spent one night in an overwater bungalow at the Four Seasons Resort Bora Bora, where cash rates for standard accommodations (which are overwater bungalows) start at $1,549 per night. It was my first-ever visit to a Four Seasons property, and now I understand why some people love the brand so much.
After checking in, I was whisked away to my two-room bungalow via a resort golf cart. While receiving a tour of my bungalow overlooking the placid lagoon's aquamarine waters, I couldn't wait to dive right in for a swim.
The bungalow itself was breathtaking, too, with a large bedroom plus a separate seating and dining area. Nespresso coffee machines and the brand's signature beds dressed in Dobby Sateen cotton sheets come standard, as do in-floor glass tiles through which you can view the lagoon's waters and aquatic life below.
As you may expect, the service was just as exceptional as the bungalow itself. Most requests can be made via the Four Seasons app, so you can ask for more towels or book reservations in the spa or restaurants right from the in-room tablet. It would be an excellent option for couples on a romantic getaway since you practically don't have to leave your room to enjoy Bora Bora's singular scenery.
1 of 35
(Photo by Clint Henderson/The Points Guy)
0
1
2
3
4
5
6
7
8
9
10
11
12
13
14
15
16
17
18
19
20
21
22
23
24
25
26
27
28
29
30
31
32
33
34
However, if you manage to pull yourself away from the room, you'll find a variety of amenities at your disposal, including a large spa and fitness center complex, tennis courts, a dive center, an infinity pool and even a beach volleyball court.
1 of 9
(Photo by Clint Henderson/The Points Guy)
There are several dining options, too, ranging from Mediterranean-inspired Arii Moana to a seafood-focused beach grill. I ended up visiting Vaimiti, an Asian-influenced restaurant in its own overwater bungalow, for a casual, solo dinner of fried pork gyoza with a black vinegar sauce and sesame oil and kung pao chicken with leeks, peppers and peanuts, both of which were delicious.
The only other option I was able to try during my short stay was Tere Nui, the open-air breakfast spot. The buffet-style smorgasbord of breakfast dishes was seemingly endless, offering anything you could possibly crave in the morning.
Related: How points and miles helped my family book a dream vacation to Bora Bora
InterContinental Bora Bora Resort & Thalasso Spa
Best for: Laid-back beach seekers
The final resort I stayed at during my time in Bora Bora was the InterContinental Bora Bora Resort & Thalasso Spa.
Featuring 84 overwater bungalows with beach, lagoon, island or Mount Otemanu views, the property checked all my boxes when it came to overwater living in an idyllic piece of paradise. I truly unwound during my two-night stay in a standard overwater villa, which is bookable starting at $1,017 per night, or at least 120,000 IHG One Rewards points.
1 of 3
(Photo by Clint Henderson/The Points Guy)
The villa was superb, offering a living room, an office in the entryway and a separate bedroom with floor-to-ceiling windows that let in lots of natural light and provided postcard-worthy water views. I especially enjoyed the attached outdoor space, which had a swimming platform for easy access to the lagoon.
1 of 33
(Photo by Clint Henderson/The Points Guy)
0
1
2
3
4
5
6
7
8
9
10
11
12
13
14
15
16
17
18
19
20
21
22
23
24
25
26
27
28
29
30
31
32
Determined to fit in another quintessential experience during my Bora Bora sojourn — a massage in an overwater bungalow — I booked a treatment in what ended up being one of the coolest spas I have ever visited.
The InterContinental's Deep Ocean Spa focuses on thalassotherapy, which incorporates nutrient-rich seawater into an array of spa services.
1 of 2
(Photo by Clint Henderson/The Points Guy)
The facility comprises several soaking pools and hot tubs, but the massage rooms are undoubtedly the most interesting spaces at the spa. Each treatment room features a window built into the floor so you can watch tropical fish swim in the lagoon below during your massage, which made it even more relaxing.
1 of 3
(Photo by Clint Henderson/The Points Guy)
The hotel's dining outlets were plentiful and impressive, too. I enjoyed a five-course dining extravaganza at Le Corail Restaurant, the property's signature restaurant. The service was wonderful and the food was just as beautiful to look at as it was delicious to eat. Although I was dining alone, the meal was so extraordinary I will never forget it. The food was served at a leisurely pace that never felt too slow.
My top dishes were the appetizer of beef filet marinated in mango rum with Taha'a vanilla coconut jelly and the coconut surprise, which included a black and white chocolate shell, coconut heart and lemongrass foam and passion fruit velouté. The three varieties of butter were pretty amazing, too.
Mind the dress code. The restaurant says, "We kindly ask that male guests wear long trousers, a collared shirt and covered shoes, and female guests wear a dress or blouse with pants or a skirt."
1 of 8
(Photo by Clint Henderson/The Points Guy)
Dinner at Le Corail Restaurant was a tough act to follow, but the Reef Restaurant's massive breakfast spread the next morning did not disappoint. The mix of local items like fresh fruit and American-style breakfast staples was enough to fuel me up before I headed out for a relaxing day outdoors.
1 of 4
(Photo by Clint Henderson/The Points Guy)
With expansive views of the lagoon, the infinity pool was an ideal place to kick up my heels and relax.
I would have happily stayed here for weeks had I had the time and money (or points).
Related: Using miles and points to get to Tahiti
Intercontinental Bora Bora Le Moana Resort
Best for: Budget-conscious visitors
While I didn't get a chance to stay at InterContinental's other Bora Bora resort, I did have an opportunity to check it out before an all-terrain vehicle excursion I had signed up for that was using the property's lobby as the meet-up point.
1 of 8
Image courtesy of Intercontinental Le Moana Bora Bora
The Intercontinental Bora Bora Le Moana has 61 rooms, including some overwater bungalows and some beach bungalows. There is a small infinity swimming pool and a nice little beach to explore. The great thing is the location is not far from one of the most beautiful beaches in Bora Bora, Matira Beach.
There are only two restaurants — Vini Vini Bar and Restaurant Terrace and Noa Noa Terrace Restaurant — but you can access other nearby restaurants which will sometimes pay for your transportation. Ask the front desk for options.
There is no gym or spa, but you can sometimes get a free shuttle to the sister Intercontinental property for gym or spa activities. Ask at the front desk.
The facilities looked a bit worn and reviews from colleagues who've stayed here are hit or miss. Still, there's no denying that the resort's relatively affordable room rates make it a great option for travelers sticking to a tight budget. I found nights from as low as $521, a bargain compared to the other four resorts on this list.
However, those with a stash of IHG One Rewards points may have difficulty redeeming a free night here. I couldn't find much award availability during my research, which Katie Genter (TPG's resident IHG expert) confirmed after finding very few awards available when doing her own search. In fact, Katie couldn't find a single four-night award available.
The limited availability is definitely a drawback, but if you're lucky, you may find rooms for about 120,000 IHG One Rewards points per night. Keep in mind, though, that IHG prices its awards dynamically, meaning award nights here will likely require even more points due to the high demand, and if you do find saver availability, it might be worth checking to see if award nights are also available at the InterContinental Bora Bora Resort & Thalasso Spa, which is much pricier in terms of cash.
Given how affordable (by Bora Bora standards) cash rates for rooms are, though, I'd consider staying here whenever I find myself back in French Polynesia.
Related: Maldives vs. Bora Bora: Which remote island chain should you visit?
The St. Regis Bora Bora Resort
Best for: Marriott Bonvoy fans and fancy families
With cash rates starting at about $2,300 a night but going as high as $3,400, I could not swing a stay at the uber-exclusive St. Regis Bora Bora Resort. However, if I had unlimited money (or points), I'd no doubt want to reserve a room here.
TPG points and miles reporter Kyle Olsen loved the property when he visited years ago, calling it the best resort he's ever stayed at. Despite it being designed with couples in mind, Kyle had an amazing time when he visited with his parents. He was especially impressed with the spacious rooms, which all come with attached outdoor areas and measure at least 1,549 square feet, meaning there was plenty of room for everyone. Some even feature private plunge pools.
1 of 5
KYLE OLSEN/THE POINTS GUY
Others at TPG, including The Points Guy himself, Brian Kelly, and former editor-at-large Zach Honig, also enjoyed the property, listing the large renovated rooms, wide selection of activities and delicious seafood as highlights. However, the service could be lackluster at times, according to them, and everything from the rooms to meals at the five on-site restaurants is expensive.
1 of 4
The St. Regis Bora Bora Resort. (Photo by Zach Honig/The Points Guy)
The massive property features a swim-up bar pool and an adults-only pool. With three beaches, you'll never want for a place to swim or sunbathe.
There are six restaurants or bars to get food and drink, including the quite well-known Lagoon Restaurant by Jean-Georges. The Iridium Spa is on an island in the middle of the hotel's famous lagoonarium where you can also snorkel undisturbed in schools of local fish.
There is free access to nonmotorized activities like stand-up paddle boarding and kayaking. There's also a gym, a kids club and even an artist-in-residence with a small museum.
Related: The St. Regis Bora Bora vs. St. Regis Maldives
If you're hoping to trim resort costs by redeeming Marriott Bonvoy points, know that you'll need a lot of them to cover a stay here. During off-peak dates in February, Kyle was able to find rooms available for as few as 70,000 Marriott Bonvoy points per night. Based on my own research, though, award nights are tough to find. On the few dates I found with availability, the property was charging 187,400 Marriott Bonvoy points per night.
Expand your search to options using a combination of points and cash and you'll find more availability. I came across redemptions ranging from $339 plus 120,000 Marriott Bonvoy points per night to a whopping $942 plus 140,000 Bonvoy points per night, depending on the dates I selected. While these prices are tough to stomach, they are not that surprising given Bora Bora's reputation as a pricey piece of paradise to visit.
Related: 6 (almost) impossible hotel redemptions you can book now
Bottom line
I always thought Bora Bora would be a truly magical place to visit, and my trip there did not disappoint. While you'll likely spend a considerable amount of money (or points and miles) to vacation here once you factor in flights to this remote tropical paradise and accommodations in a high-end option overlooking the lagoon, if there is ever a destination to splurge on, I would have to say that Bora Bora is it.
When you're not taking advantage of all your luxe resort has to offer, you can explore the tranquil waters full of marine life or get your heart racing during an ATV excursion on land, among other activities. Or, you could just soak up some sun from the deck of your overwater bungalow and call it a day.
Regardless of what you end up doing, the variety of experiences and truly world-class accommodations should ensure that your trip there will be just as enjoyable as mine was.