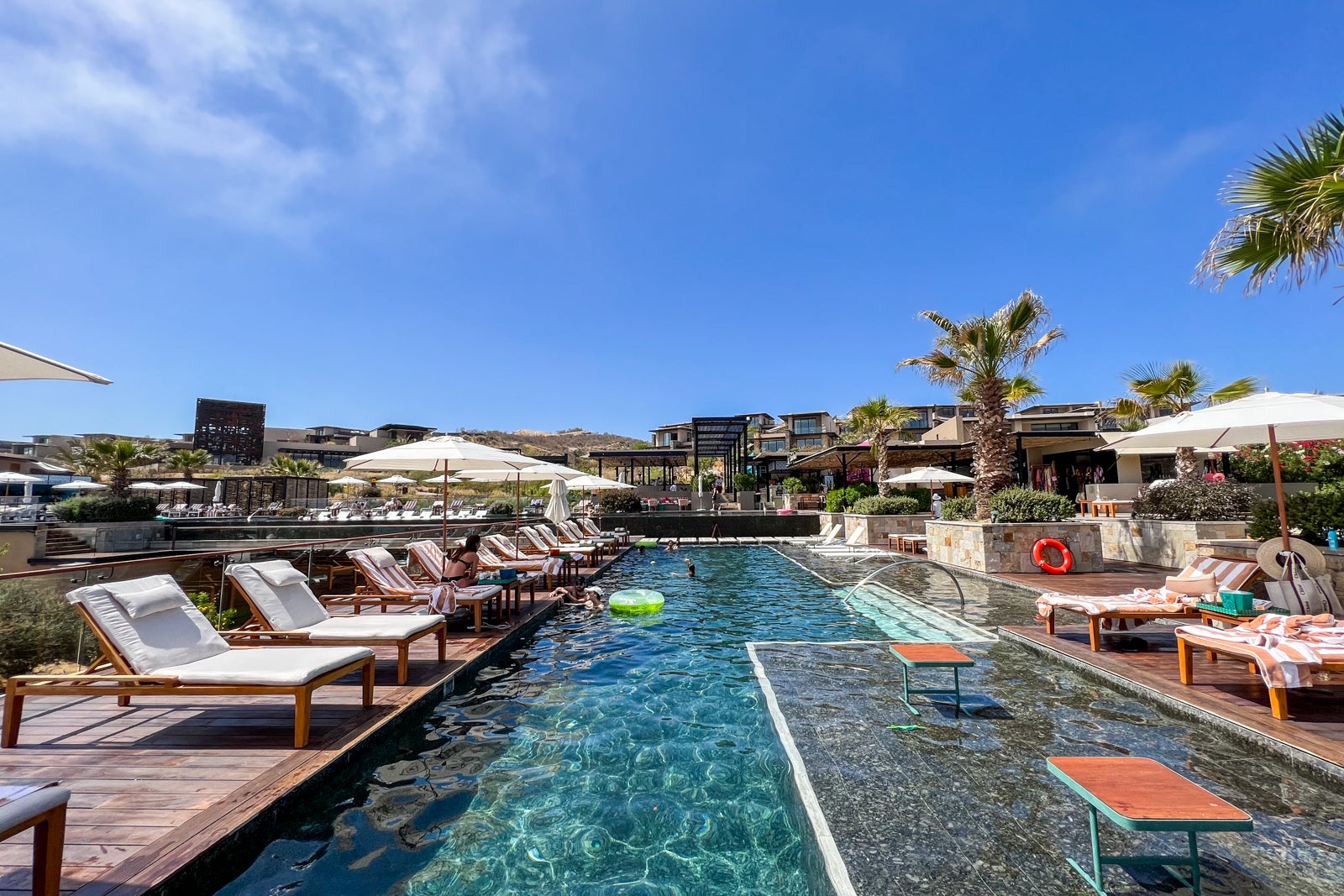 Lavish but lacking: A review of Mexico's Ritz-Carlton Zadun
RItz-Carlton launched the first of its ultra-exclusive Reserve-branded resorts at Phulay Bay in Krabi, Thailand, back in 2008. Since then, the exclusive label has expanded to include just four other hotels scattered across the globe.
Unfortunately, none of them participated in the Marriott Bonvoy program — meaning members could neither earn nor redeem points on stays — until this past April. When that change went into effect, I decided to book a stay at one of the Ritz-Carlton Reserve properties I've been meaning to visit for years, Zadún, located outside Los Cabos, Mexico.
With room rates that regularly soar north of $2,000 per night, my expectations for the experience were high. And they were mostly met, despite a few service snafus, thanks to the beautiful accommodations, the immaculate landscaping and the delightful staff.
Here's what my recent stay at Zadún was like, and how earning and redeeming Marriott Bonvoy points at Ritz-Carlton Reserve properties now works.
Sign up for our daily newsletter for more TPG news delivered each morning to your inbox.
Booking
As mentioned, the impetus for my relatively last-minute trip to Baja California was the fact that Ritz-Carlton Reserve properties finally began participating in the Marriott Bonvoy program in April. Prior to that, you could neither earn nor redeem Marriott Bonvoy points at these rarefied resorts, which currently include:
Hokkaido, Japan – Higashiyama.
Krabi, Thailand – Phulay Bay.
Puerto Rico – Dorado Beach (read TPG's review).
San José del Cabo, Mexico – Zadún.
Ubud, Indonesia – Mandapa.
I've been lucky enough to stay at two other Reserve locations, in Thailand and Bali, before this change. I had come away from those experiences completely enraptured with these exotic enclaves, which take the Ritz-Carlton level of luxury to another realm thanks to amenities like on-call butlers, self-contained suites and both gastronomic and spa experiences not to be found elsewhere in the Marriott portfolio.
The fact that Marriott Bonvoy members can now earn and redeem points at these singular hotels will likely be a real draw for luxury travelers who might otherwise spend their dollars elsewhere.
I wanted to get down to Zadún, which originally opened in November 2019, soon after its participation in Marriott Bonvoy went into effect, so I booked for the third weekend in April. Redemptions at that time were available from 152,000 points per night, though some rooms are available for closer to 120,000 points per night in slower seasons like September.
Sign up for our daily newsletter
Paid rates start at $1,009 on rare dates, though the usual starting point appears to be around $1,699 per night (plus taxes) throughout much of the rest of 2022.
That was the rate I secured, which came to around $4,554 including taxes and surcharges for two nights in an Ocean View Plunge Pool guest room with one king bed and a terrace on an upper floor.
Overall, the resort has just 115 rooms, suites and villas in a variety of configurations, so it can be hard to keep track of which one you've booked. The Ocean View Plunge Pool rooms are a couple levels above those in the starting Resort View category and tend to cost $50 to $350 more per night than a starting category room.
As a Marriott Bonvoy Gold elite, I earned 12.5 points per dollar on the base rate, plus another 6 points per dollar by using my Marriott Bonvoy Business® American Express® Card and a 500-point welcome bonus, for a total of just over 68,000 points.
Rather than booking directly through Marriott, I made my arrangements through Cranky Concierge, which participates in the Marriott STARS program and could secure the same exact daily rate for me, but with the following inclusions:
Complimentary daily breakfast for two.
Early check-in and late checkout if available.
A welcome amenity and a note from the general manager.
Upgrade of room type if available.
A $100 amenity credit to be used on dining, spa services and hotel-managed recreational activities.
I spent the week ahead of my stay looking forward to basking on my private deck between dips in my plunge pool and forays down to the beach for walks bookended by poolside drinks.
While most of that did indeed take place, it wasn't without a few complications.
Before arrival
As you might expect from a hotel of this caliber, I received a pre-arrival email from two guest relations representatives requesting I send them information about my flights, asking if I needed transportation, letting me know they could help with dinner and spa reservations and informing me they'd made arrangements for COVID-19 tests required for my return to the U.S.
I wrote back informing them that I would not need departure tests (at a reasonable cost of $30 each, or $33 if administered privately in my room), nor airport transportation at a cost of $160 to $200 one-way since I could just take an Uber. I did, however, ask them to make restaurant reservations for me for both evenings of my stay.
Within half an hour of my email, one of them replied that my meal arrangements had been made, but that I was also entitled to a one-way airport transfer thanks to my Marriott STARS reservation. They also provided instructions on how to find the property's representative outside the terminal.
That was a nice surprise, but one I wish I'd known I was entitled to from their original email. When I arrived at San Jose del Cabo, I followed the instructions and found the representative near the parking lot bar. He then called my private car, which was a Suburban stocked with water and snacks, for the 40-minute drive to the resort. I estimate that saved me about $40-$50 instead of taking an Uber.
Location
Zadún is located in the 2,000-acre Puerto Los Cabos development east of San Jose del Cabo, about 45 minutes from Cabo San Lucas.
To get to the resort, you must pass through the main gate and then drive about 15 minutes through a golf course and past the two other main resorts there, the JW Marriott Los Cabos Beach Resort & Spa and the all-inclusive Secrets Puerto Los Cabos, which is now part of World of Hyatt.
If you plan to take Ubers into town or back to the airport, just be aware that it can take around a half-hour for one to arrive, so call early.
Check-in
When my car pulled into Zadún's circular driveway, anchored by an angular iron sculpture, my luggage was whisked away and I was greeted by my personal attendant.
Here, they're called Tosoanis, or dream watchers in the Nahuatl language, because their job is to make guests' dreams come to life. My Tosoani walked me past the concierge desk to a viewpoint where she could point out the various resort buildings and amenities across the 20-acre property. She did not mention the Marriott STARS inclusions for my stay, but I figured I could always ask about them at checkout if something seemed amiss.
The hotel is located on a hillside that slopes down toward the ocean. To the right of where we stood was the hotel's cocktail bar, Candil, and its fine-dining restaurant, Humo (more on these later).
Directly downhill from the viewpoint is the main pool area with a long infinity pool built on a sort of bridge-deck overlooking the ocean, with a small splash pool for children at one end and one of the resort's restaurants, El Barrio, at the other. The grounds are crisscrossed by walkways and sandy or rocky patches planted with various species of cactus and other succulents as well as bougainvillea and other flowering bushes. The overall effect is stunning, like the desert come to life.
Running perpendicular to it and on a slightly lower platform was another, slightly smaller pool, where there were some cabanas and a boutique selling things like sunscreen, pool toys and bathing suits.
The gym and lap pool as well as the kids club and Ambassadors of the Environment activity center were down one level from there. Back toward the beach was a small, curvaceous, adults-only pool and the hotel's lunchtime beach restaurant, Equis.
Finally, you could access the beach itself from two points. There were lounge chairs and umbrellas set out there, though most guests stuck to the pool.
The hotel's spa was nestled amidst some of the buildings that had guest rooms. There were generally just two rooms or suites per building, one on the upper floor and one on the lower.
1 of 4
(Photo by Eric Rosen/The Points Guy)
Once I had the lay of the land, my Tosoani asked if I'd like to have lunch since my room was (understandably) not ready yet. It was only around 11:30 a.m. at that point and I'd been up early, so I readily agreed to lunch. I figured I could eat, then settle in and get the rest of my day's work done from the room, so I followed her to the main pool area and Barrio.
I enjoyed a leisurely, hour-long lunch as the sun started to come out. At the end of my meal, I asked the hostess about the status of my room and was informed that it was not yet ready but would be soon and I could continue to wait at the restaurant or in the open-air cafe.
In the end, I spent most of the afternoon out there working since my room wasn't ready until around 3:30 p.m. — though I was repeatedly told it was almost ready throughout that time. I totally get that I ended up in the room only a half-hour after the stated check-in time. But had I known it would take so long, I would have changed out of my travel clothes and found a shady spot to work for the afternoon, taken a swim or hit the gym rather than waiting around for several hours.
When I eventually met my Tosoani at the room, I explained that I would have preferred being told the wait would be several hours so I could have used my time better. She apologized profusely, saying there had been a misunderstanding with housekeeping about the timing. I left it at that and let the bellman show me around the room before wishing them both a good afternoon.
Later that day, I received a few text messages from my Tosoani (the preferred method of communication for guest requests) apologizing again and wishing me a pleasant stay.
The room
My room, number 153, was located toward the top of the property, two levels above the walkways leading to the spa and the pools. To get there, a bellman drove me past the western edge of the property, where there seems to be a lot of noisy construction going on, so if you plan to stay here anytime soon, I would ask where your exact room assignment is before arrival.
Including both the large indoor space and massive terrace, my room was a sizable 750 square feet.
1 of 2
(Photo by Eric Rosen/The Points Guy)
The entrance was a metal gate opened with my key card that led onto a terrace with a four-top table, two sun loungers, a large, circular daybed and a glass-sided plunge pool along with a foot plunge with steps leading across it from the bedroom.
Throughout my stay, I found that my metal gate either didn't close properly all the way or would somehow unlock on its own; several times, I found it had swung open after I'd been sure to close it. Considering this was the main privacy barrier to the path that ran outside my front door (though the room door itself also had a key-card lock), it made me a little uncomfortable about coming and going without making sure the gate was securely locked each time by swinging it shut and pulling hard.
The outdoor area was absolutely beautiful, with floors and walls tiled in striated, taupe limestone and views across the entire resort and down to the Sea of Cortez. It got plenty of sun throughout the day, though there was a sunshade stretched across part of it, and you could ask for more shades to be put into place if you liked.
The two loungers were soft and comfortable, as was the daybed, where I spent a couple of hours working on my computer one day. Housekeeping kept refreshing the stash of beach towels rolled up and placed in a basket for my use.
I also enjoyed a room service breakfast on my final day at the outdoor table, and it was delightful, with ocean breezes and birds singing.
The reason I didn't spend more time out here was that when the pillows and cushions on the outdoor furniture heated up in the sun … they began to smell like body odor. And this was before I'd even spent any time out there, which indicated that they had not been changed or washed between guests.
I'm not sure what other hotels do, but given just how pungent these pillows were, I would hope housekeeping had a plan in place to clean these items more frequently.
The interior was as impressive as the outdoor deck.
Like the exterior space, the floors and walls were tiled in limestone, including an eye-catching geometric pattern on the wall behind the bed. The south wall was mostly comprised of a sliding glass door, though it only opened onto a very narrow ledge with a glass wall, so I'm not sure what this space was designed for. It overlooked the paths to the rooms below, and there was some construction going on, which made it noisy, so I mostly kept it shut.
The furnishings were hewn from rich, brown-toned wood, including the bed headboard, the nightstands and a simple chaise lounge.
1 of 2
(Photo by Eric Rosen/The Points Guy)
The bed, which I cocooned myself in each evening, was beautifully dressed in soft white linens and had not just a pillow-top mattress but also a soft mattress pad.
1 of 2
(Photo by Eric Rosen/The Points Guy)
To either side was a pendant lamp and a console with buttons that could control the lights and the powerful overhead fan as well as illuminate service and do-not-disturb indicators at the front gate. There were USB and power plugs plus a telephone, a clock radio, a kit with masks and hand sanitizer, and a potted cactus, which was a cute touch.
There were also two medallions — one shaped like the sun, the other the moon — that you could hang on your door to ask for service or not to be disturbed, respectively.
1 of 2
(Photo by Eric Rosen/The Points Guy)
Just in front of the bed was a low, cushioned bench. Then directly in front of that and facing the sliding glass door to the terrace was a small table with two chairs. Each day, catering would lay out delicious treats. When I arrived it was like a curio cabinet of locally produced nibbles like mild cheese, cured meats, olives and guacamole. The following evening, I found a bucket of popcorn, tortilla chips, pico de gallo and guacamole — perfect for a little Netflix nosh before bed.
1 of 2
(Photo by Eric Rosen/The Points Guy)
Between the front door and the sliding glass door was a stone countertop set into a wood-paneled recess that served as the desk and which held some beautiful ceramics. Just above that, a flat-screen television was suspended from the wall, though it was angled slightly down and did not easily move on the arm fastening it to the wall.
1 of 2
(Photo by Eric Rosen/The Points Guy)
One of the things I really appreciated about the room was its flow. Upon entering, you could either turn right into the bedroom or open a large wooden sliding door to the left to enter the closet area. It had plenty of space for luggage and hanging clothes, and a few narrow drawers in which to put smaller items, plus the room safe. The resort lends guests sun hats and beach bags for their stay, though I only ended up using the bag.
1 of 2
(Photo by Eric Rosen/The Points Guy)
Just past that was a water closet with the toilet and one of the more unique touches I noticed: lavender-scented toilet paper. The spare roll was tied up in a sachet with dried lavender, allowing it to steep in that scent before being deployed.
1 of 2
(Photo by Eric Rosen/The Points Guy)
In the main part of the bathroom, there was a deep soaking tub set at a slight angle and provisioned with salts and candles with beautiful woven wooden light pendant light fixtures overhead.
1 of 3
(Photo by Eric Rosen/The Points Guy)
There was another glass door leading to a narrow, walled-in wooden deck, but since it did not lead anywhere and you couldn't see anything, I suspect this was mainly for maintenance.
Beyond the tub was a semi-enclosed shower with both overhead and wall-mounted shower heads. The water pressure was also a bit disappointing, never more than a steady but soft patter.
The Spa Alkemia products from the resort's spa left my skin and hair feeling clean, moisturized and scented with local herbs that weren't overpowering.
Moving on toward the bedroom, the final component of the bathroom held a vanity with both a large mirror and a smaller one for makeup along with some decorative woven baskets.
1 of 2
(Photo by Eric Rosen/The Points Guy)
To the other side were two sinks set into a limestone countertop. The hotel provided Spa Alkemia hand lotion and Aromatherapy Associates hand soap as well as two boxes of water and a selection of toiletries like a dental kit and a nail-care set in case you left any essentials at home.
1 of 2
(Photo by Eric Rosen/The Points Guy)
Finally, you were back in the main room after passing through the other large, wooden sliding door.
Occupying the wall space between the closet and the bathroom was the minibar, in which the small boxes of water, sodas and milk for coffee were complimentary, but beer, wine and spirits were for purchase. There was also a Nespresso machine with pods and packets of sugar and sweetener available.
1 of 4
(Photo by Eric Rosen/The Points Guy)
Overall, I thought the room was spectacular. Malodorous cushions aside, the outdoor space was a gorgeous and very pleasant setting in which to spend time thanks to those panoramic views.
1 of 3
(Photo by Eric Rosen/The Points Guy)
The interior felt even more spacious than it already was due to the huge windows and just how well the layout flowed from one room to another. If there hadn't been so much else to see and do at the resort, I might not have wanted to leave my room at all.
Food and beverage
Zadún's dining and drinking outlets range from beachy and casual to a more formal, fine-dining experience.
Adjacent to the main pools is El Barrio, the resort's casual, all-day restaurant. With a mainly Mexican menu and colorful decor, pillows and place settings, the ambiance feels like a backyard fiesta, albeit one with expensive prices.
1 of 4
(Photo by Eric Rosen/The Points Guy)
I ate breakfast there my first full day and enjoyed a hearty portion of avocado tartine on sourdough toast with tzatziki, chili oil and a hard-boiled egg ($23). The sauce-drenched huevos rancheros ($26) and carnitas breakfast tacos with charred tomatillo sauce ($22) seemed to be other popular choices.
Had breakfast not been included with my stay, I probably would have popped into the little cafe that's part of Barrio, called Azul, for coffee and a pastry.
1 of 3
(Photo by Eric Rosen/The Points Guy)
The lunch menu was an assortment of small bites, seafood and heartier fare. I started with a seafood ceviche of shrimp, octopus and fresh-caught fish in tangy vuelve a la vida sauce ($21) and a wood-fired carne guisada beef quesadilla with pickled onion and salsa verde ($30) that felt and tasted like a thin-crust pizza.
1 of 3
(Photo by Eric Rosen/The Points Guy)
I came for dinner on the Saturday night of my stay since it was the weekly special taqueria night (complete with a mariachi band). I ordered chips and guacamole to start ($18) and three of the one-off taco options (for $9 each) of grilled fish with nutty black sauce and radish; juicy rib-eye with carnitas oil, salsa and guacamole; and axiote-seasoned pork with pickled red onion. All three were delicious — and so filling that I skipped the desserts ($11), even the piping-hot, cinnamon- and sugar-dusted churros with dulce de leche, condensed milk and hot chocolate dips I heard my neighbors raving about.
Unfortunately, I can't drink tequila due to an allergy, otherwise, I would have tried one of the cocktails on offer ($15 to $19), like the Tropi-Rita with blanco tequila, Pineapple Giffard, lemon, lime, honey and a topper of passion-fruit puree with habanero bitters.
There was also a selection of Micheladas, including the Santiago with Colima Cayaco Tropical Lager, lemon juice, chile pulp and a grasshopper-salt rim ($12).
The other night of my stay, I stopped for a cocktail at the hotel's Candil Agave Bar, which is set in a dramatic structure sheathed in perforated metal made to resemble a lantern.
1 of 6
(Photo by Eric Rosen/The Points Guy)
Because I can't have agave spirits, I went for a mole Old Fashioned ($16) with Abasolo Mexican whiskey, Nixta corn liquor and mole bitters. The drink was sweet but well balanced — and eventually taken off my bill at dinner courtesy of the manager. I asked why, and though it was never explained, I suspect it was as a courtesy for the delay in getting into my room.
For folks who do like spirits such as tequila, mezcal and raicilla, there are plenty of phenomenal-sounding cocktails ranging from $14 to $19, including the Jogorio with grassy but smooth Raicilla La Venenosa, chile-derived Ancho Reyes Verde liqueur, tarragon, tonic and celery bitters.
One of the bartenders was telling me about the property's impressive collection of spirits from all over Mexico and was very knowledgeable, so I might recommend one of the tequila, mezcal or agave-spirits tasting "journeys" you can book there, which last 45 minutes and cost $100 per person.
1 of 2
(Photo by Eric Rosen/The Points Guy)
The bar also serves tapas such as crispy fish chicharrones with tomatillo sauce ($16) and short rib tinga taquitos with cotija cheese ($14), but I was saving my appetite.
For the main event, I went next door to have dinner on the terrace of the hotel's signature restaurant, Humo. The name means smoked, and many of the meats, seafood and fish are grilled over an open flame. The menu is a mix of nouvelle Mexican and South American flavors and preparations.
1 of 6
(Photo by Eric Rosen/The Points Guy)
I started with a trio of yellow potato causas topped with succulent Baja lobster and garnished with dollops of avocado puree and aioli-like acevichada sauce. Next, I had the grilled sea bass, which came to the table juicy and sizzling over a slightly spicy seafood stew in a lo macho sauce with vegetables and just a touch of cilantro ($49).
1 of 2
(Photo by Eric Rosen/The Points Guy)
Meat lovers might opt instead for one of the steak dishes like the petit filet mignon ($59). If I'd been eating with someone else, I might have gone for the whole-grilled totoaba fish (a Baja specialty) for $59 or the whole grilled catch of the day ($96). For the larger grilled dishes, servers suggest you order sides such as pil pil mushrooms in a garlic and white wine sauce ($16), grilled asparagus ($16) or creamy mashed potatoes ($16).
I inadvertently skipped dessert by saying I was full, so my server just brought me the bill … but also some petit fours, including a small custard pastry and a strawberry cream tart.
During my only full day at the resort, I stopped by the hotel's beach bar, Equis, for lunch on the small patio overlooking the shore. Although there are fish, shrimp and octopus tacos ($18 to $19), I went for one of the specialty ceviches instead, settling on the Peruvian-style seafood one ($25) with shrimp, octopus, calamari and fresh catch of the day cured in a spicy-tart rocoto sauce with giant kernels of mild choclo corn and shaved onion on top.
The dish was at once light but hearty, and tasted even better with the salt smell of the sea setting the tone.
1 of 6
(Photo by Eric Rosen/The Points Guy)
For my final morning at Zadún, I decided to order room service for breakfast since that was also included in my rate. I called the night before to order it for 9:30 a.m. and chose the chilaquiles with both red and green sauce as well as scrambled eggs and a carafe of sweet, Mexican-style café de olla infused with cinnamon and other aromatic spices. The guest services representative I spoke to was delightful and repeated my order — and it showed up right on time the following morning.
The one mistake? The eggs were sunny side up instead of scrambled. I didn't mind the mix-up much and there was no time for me to try to reorder and get a new breakfast before I wanted to check out.
Speaking of paying, when I checked out, I found both breakfasts had been removed from my bill as they should have been, but I had ended up with a $150 dining credit instead of the $100 promised by Marriott STARS. I emailed Cranky Concierge about it to ask if that was the inclusion at Reserve properties, specifically, but was told that it was just supposed to be $100, so I'm not sure what other travelers will receive. The rest of my meals — two lunches and two dinners — rang up at around $450.
All the restaurant and bar tabs also had a 15% service charge tacked on with an additional line for tipping if you wanted. I always added a few dollars extra because the service was uniformly wonderful, but the resort might have considered just having one or the other to make things feel a bit less awkward.
Amenities
As you might expect from a luxurious retreat like this, Zadún has plenty of other amenities to keep guests busy or to help them relax.
As mentioned, the two main pools are in the same area as El Barrio and the fitness center, and both are family-friendly. The longer one is oriented parallel to the coast and has loungers set up on only one side, both on the wooden deck and on a shallow step in the water.
1 of 6
(Photo by Eric Rosen/The Points Guy)
The other pool lies perpendicular to the first one, extending from the dining area of El Barrio in the direction of the sea, and has loungers arranged in pairs under umbrellas on both sides as well as a few loungers in the water. There are six cabanas total for both pools that are available between 9 a.m. and 6 p.m. for $350 per day. One of them, at the ocean end of the smaller pool, seemed to have exclusive use of a hot tub at the end of the deck, too.
1 of 7
(Photo by Eric Rosen/The Points Guy)
Though there were children playing in both pools from time to time, the area was mostly quiet. The one exception came when a group of about a dozen friends and family members took over an entire side of one of the pools, leaving loungers in short supply. They also started tossing footballs and volleyballs, splashing everyone around the pool, so I eventually moved elsewhere.
When I first sat down at the pool, there were no attendants in sight, though I noticed that they had distributed buckets of ice and water along with sunscreen to folks at the other loungers. It took about 40 minutes for anyone to appear, and then it was to offer to clean my sunglasses. Instead, I asked for water and the attendant looked surprised that I hadn't received any.
After moving to the other pool, the attendants were much more available, laying out towels for me immediately, and regularly offering drinks, menus, fresh towels, to move the umbrellas or to call golf carts for guests to return to their rooms.
I did try to sit down at the adult pool closer to the beach, but there were fewer than 20 chairs, most of which were claimed early in the day. Other than that, you'd have to rent a cabana on the nearby lawn, which are only available between 9 a.m. and 2 p.m., for $250 per day.
1 of 5
(Photo by Eric Rosen/The Points Guy)
The hotel has staked out a small area on the beach with chairs and umbrellas, though few guests used it from what I saw since the ocean is too rough to swim in. I enjoyed taking sunset walks along the beach toward the JW Marriott in one direction and past some local fishermen and housing developments in the other. Barely anyone else was out there and it was a wonderful way to wind down the day.
The fitness center had several different areas including a room for Technogym bikes, another for abs and stretching, a cardio section with treadmills and ellipticals and finally a weight area with machines and free weights.
1 of 7
(Photo by Eric Rosen/The Points Guy)
Outside, the lap pool was accessible from either end of the gym, and there were men's and women's changing rooms.
1 of 2
(Photo by Eric Rosen/The Points Guy)
Pouches with masks and antibacterial gel were available, as were towels, headphones, water and snacks including apples and house-made protein bars and trail mix. Various free classes were offered daily, too, including yoga, mat Pilates and body sculpting. Honestly, this must be one of the best-equipped hotel gyms I've come across and if I hadn't been so set on relaxing, I definitely would have taken advantage of it more.
1 of 2
(Photo by Eric Rosen/The Points Guy)
On the other side of this level was the kids club and the Ambassadors of the Environment program, offering various activities to promote eco-consciousness such as snorkeling, seasonal whale watching and desert hikes.
Golfers can book time on one of three courses, including a Jack Nicklaus Signature course, a nine-hole Greg Norman Signature course and the Mission Course. All told, there are 27 holes that can be played in three different 18-hole configurations.
Back at the resort, the Alkemia Spa is a short walk from the pools and set into a kind of sunken area of the landscape and is open from 8 a.m. to 6 p.m. daily. The main building had a traditional thatched roof and a dramatic entryway with water features and fire elements.
1 of 4
(Photo by Eric Rosen/The Points Guy)
Anchoring the complex was a massive curviform pool with various hydrotherapy and relaxation areas. There were also men's and women's locker rooms with steam and sauna facilities (though they weren't operating during my stay) and showers.
1 of 6
(Photo by Eric Rosen/The Points Guy)
Along with single and couple's treatment rooms, there was a traditional Mexican temezcal for heated meditation sessions and a yoga room for the spa's signature Savasana Sound Healing experience ($125-$185).
1 of 5
(Photo by Eric Rosen/The Points Guy)
There also were a yoga studio and a salon for manicures, pedicures, hair cuts, blowouts and styles. Guests could opt just to use the facilities for the day for $50 per person, according to the attendant who showed me around.
Spas in Cabo tend to be expensive, even compared to other high-end leisure destinations, and the treatment menu at Zadún was no exception.
Sixty-minute massages started at $260, while some 90-minute ones cost $390. Facials were equally exorbitant, starting at $275 for a 60-minute sensitive-skin session. Treatments incorporate a variety of products including the spa's own Alkemia line, Isun, Oribe, Tara and Luzern. The experiences were a bit too pricey for me, so I didn't book anything, but I really appreciated the 30-minute tour one of the spa attendants gave me, answering all my questions and explaining the various treatments I asked about.
1 of 2
(Photo by Eric Rosen/The Points Guy)
Finally, there were two beautiful stores opening onto the hotel's driveway, one of which sold sundries, apparel and jewelry, while the other sold Mexican handicrafts and design items
1 of 2
(Photo by Eric Rosen/The Points Guy)
Service
As you might have noticed by now, every staff member I interacted with at Zadún was, in a word, delightful.
Folks were helpful, caring, extremely friendly and cheerful, and generally just seemed to be glad to welcome guests and to take care of them during their stay.
Honestly, I cannot say enough about just what a pleasure it was talking with some of the folks I met, from servers in the restaurants who enjoyed telling me about local foods and ingredients to the boutique attendant who explained where various craft pieces came from around Mexico and the spa receptionist who showed me around the facilities.
I came away with an extremely positive impression of the hard-working folks who keep the place running.
On the other hand, there were a few mild service snafus that got me thinking about the overall experience.
As I mentioned above, there was a miscommunication about getting into my room the first day, and then there was an issue with the bathroom drain that had me waiting outside for about an hour the following day.
As another example, I had explained both in my pre-arrival email as well as when checking in that I would not need a COVID-19 test during my stay since I was not departing back to the U.S. But during lunch the following day, I received several texts asking my whereabouts because I apparently had a COVID test booked and there was a bellman waiting at my room for me. It took several back-and-forth texts for me to explain again that I was not taking a test, and the service agent apologized for the inconvenience. I get that it's a little thing, but the fact that this kept coming up before and during my stay left me exasperated, and I made a mental note to look out for a testing charge on my final bill in case it had mistakenly been added.
On the second afternoon of my stay, I went out for a beach walk and left my shoes by the end of the hotel's beach pathway, as I'd done the day before. When I returned, they were missing. Walking up toward Equis, I came across a hotel attendant waiting with a golf cart to take a couple up to their room from the otherwise deserted adult pool. I asked him if he could call the lost and found because my shoes were missing and he diligently took down all my information and said my Tosoani would be in touch.
He didn't offer me a ride up to my room at the top of the property, though. When the other couple arrived, he ushered them into the cart and drove off. Now, I certainly could have asked for a ride or had my Tosoani arrange one, but it would have been nice if that service had been offered proactively.
That said, minutes after I arrived back at my room, another staff member was at my gate with my missing shoes and apologized for the inconvenience. While I can appreciate the fact that the staff didn't want shoes to go missing from the beach, I think a little common sense would have gone a long way in this case.
I want to emphasize again that, on a personal level, I thoroughly enjoyed meeting every staff member I talked to. These service quibbles ultimately were annoyances rather than grievances and did not end up detracting seriously from just what a beautiful place Zadún is and how wonderfully the staff treated me.
Checking out
I've been wanting to visit Zadún, a Ritz-Carlton Reserve, for over two years now, and I finally got my chance when the Reserve properties began participating in Marriott Bonvoy back in April. Thanks to past stays at other Reserve locations as well as an eye-popping price tag, I was anticipating the very apogee of service and hospitality, not to mention world-class rooms and facilities.
While the resort mainly delivered on that promise, a few minor miscommunications and service misses, not to mention some smelly patio furniture, left me feeling satisfied if not ecstatic about the experience. While I might be willing to put some points toward a future stay, I think I'll continue exploring Cabo's luxury hotel scene at other resorts before paying for another vacation in the near future at Zadún.