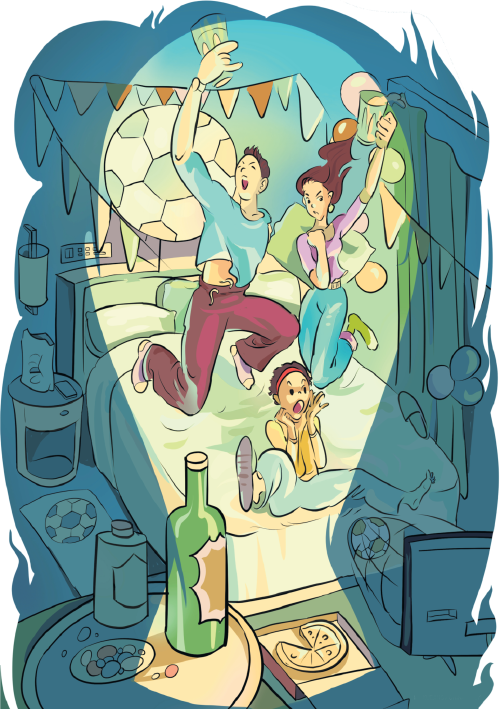 Hotels, airlines ride Cup to score biz goals
Soccer provides surprise growth opportunities for sectors facing headwinds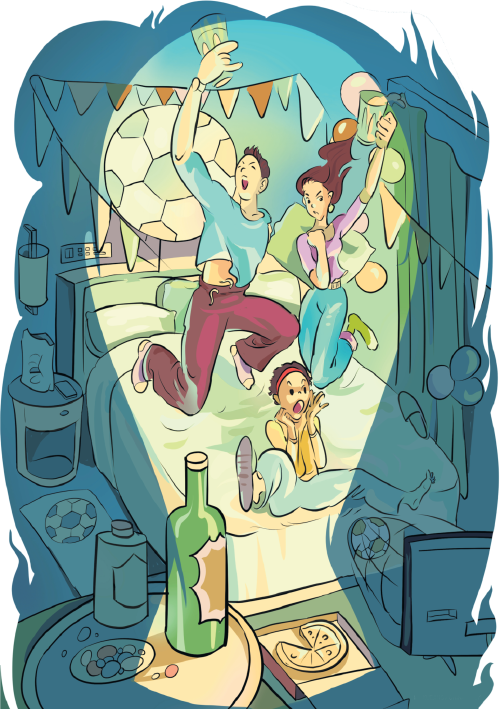 By the time Sunday's FIFA World Cup final ends in Doha, Qatar, it will have produced more than one winner — in the form of hospitality, catering, fast-moving consumer goods and aviation industries, including those in China, industry experts said.
China is not among the 32 playing teams, but soccer's premier tournament boasts a legion of avid fans in the country who double up as big-spending consumers during the four-week tournament.
This has helped many companies to score critical business goals in a humongous market that has been buffeted throughout the year by headwinds like external uncertainties and irksome domestic COVID-19 outbreaks among others.
Chinese soccer aficionados who are unable to travel to Qatar to experience all the exciting action at the stadiums, have found in technology an able ally, which somewhat compensated for missing out on all that fun, industry watchers said.
Using apps, fans can quickly buy attractive soccer-themed packages offered by various domestic hotels and providers of other types of accommodation. The chance to watch world-class soccer on massive screens with friends and loved ones, combined with free-flowing favorite beverages, snacks and meals, has proved to be heartwarming and irresistible for many, amid the bitterly cold winter weather and COVID-19 blues, market observers said.
In the tournament's first week, between Nov 21 and 25, hotel rooms with huge screens and suitable for watching videos saw their booking volumes surge more than 250 percent year-on-year. The average amount spent by consumers at hotels grew by about 30 percent year-on-year, according to Fliggy, the online travel arm of Alibaba Group.
In the same period, hotel chains such as Huazhu Group, BTG Homeinns and Dossen Group sold hotel room packages that included free beer and snacks, a strategy that netted young people.
"In the past few years, hotels and resorts have increasingly become vacation destinations for young people. Hotels can offer extra value, not just room or space," said Liang Yong, operational director of accommodation business at Fliggy.
"Consumption during the World Cup shows that by providing lifestyle scenarios beyond basic accommodation, hotels can create definite business growth opportunities," he said.
Rooms for watching esports have become popular among young people keen to soak in soccer games together. In comparison, middle-aged fans prefer to watch the games in their hotel rooms alone. This year, male and female consumers account for 63 percent and 37 percent of those who book hotel rooms to watch the World Cup, Chinese online tourism agency Tongcheng Travel found.
"Different groups of people have different reasons why they book hotel rooms during the World Cup. Young people would like to gather together with friends and seek a fun atmosphere. Middle-aged fans are conscious that the typically raucous, high-octane late-night games, due to the time-zone factor, might disturb family members at home, so they choose to go to hotels and watch the games in their hotel rooms," said Cheng Chaogong, a senior researcher with Tongcheng Travel.
To make the most of the month-long demand, Mehood Hotel Group renovated hundreds of its branches in Shanghai, Xi'an in Shaanxi province, Hangzhou in Zhejiang province, Shenyang and Dalian in Liaoning province, and Changsha in Hunan province.
"The renovated rooms are equipped with large screens, stacked with snacks and beverages, and decorated with soccer-themed elements," said Liu Wenfeng, brand director of Mehood.
"Rooms with projection equipment have become more popular. Shenyang, Dalian, and some cities in North China have seen the best sales, and for some important matches, rooms are fully booked at our hotels," he said.
Chengdu Qingyou Hotel, which is actually a hostel in Chengdu, Sichuan province, said during the first week of the World Cup, occupancy rate rose by more than 20 percent year-on-year.
"Young consumers who were born in the 1990s, after 2000 or later accounted for more than 80 percent of those who booked hotels to watch the games, and 90 percent of the total are local residents. A distinguishing feature of the trend is localized consumption," said Ren Dongfang, manager of Chengdu Qingyou Hotel.
High-end hotels have also seen business boom during the tournament. Wanda Hotels and Resorts serves as an official partner and sponsor of this year's World Cup. It has launched multiple sales packages related to the game, such as hotel rooms combined with meals, beer and some other World Cup-related products and merchandise.
"The hotels affiliated to Wanda Group have launched World Cup-related packages, and have seen their occupancy rates jump by 30 percent year-on-year," said Wang Xin, general manager of sales at Wanda Hotels and Resorts.
"Particularly, cities such as Changzhou and Huai'an in Jiangsu province, and Jinhua in Zhejiang province, have witnessed a significant growth in the volume of room bookings," Wang said.
Besides the hospitality industry, aviation has also seen an uptick in business. Round-trip bookings for international flights to and from Qatar increased remarkably in the run-up to the event and continued well after the games opened. Sales of air tickets for Doha on Tongcheng Travel platform increased by more than 50 percent month-on-month in November, the agency said.
Dubai, Bangkok, London, Guangzhou of Guangdong province, Beijing, Shanghai, and Hong Kong were among the cities whose residents booked the highest number of international flights to Doha on Tongcheng Travel.
China's largest online travel agency Trip.com Group said that as of Nov 20, booking volumes of international flights to Qatar between Nov 20 and Dec 18 — the World Cup period — surged by nearly 80 times year-on-year on its platform. Ticket booking volumes of international flights that depart from the Chinese mainland, Hong Kong, Taiwan and Macao for Qatar surged over 84 times, it said.
Booking volumes of local hotels in Qatar also surged 352 percent year-on-year, and the average booking prices soared 810 percent year-on-year, Trip.com found.
This year, more than 1.2 million fans are expected to visit Qatar during the tournament period, and they will stay for an average of four to five days, according to the organizing committee of the FIFA World Cup Qatar 2022.
Still, the main sources of visitors to Qatar are fans who come from neighboring countries. For the World Cup period, Qatar launched daily shuttle flights to and from countries such as Saudi Arabia, Oman, Kuwait and the United Arab Emirates.
A day before the World Cup kicked off, certain airlines saw heightened operations at Hamad International Airport in Doha. Among them were Qatar Airways, Indian low-cost carrier Indigo, Saudia, the flag carrier of Saudi Arabia, Turkish Airlines and Oman Air, according to OAG, a provider of global travel data based in England.
Qatar Airways from the host country is offering its patrons live broadcasts of the matches and other major sporting events as a complimentary service on their personal devices.
Such services are available on the flights operated by Boeing B777, Boeing B787-9 and Airbus A350 aircraft, including flights that depart from Guangzhou, Hangzhou, and Hong Kong.
The UAE-based carrier Emirates is also offering live soccer action on its in-flight entertainment systems aboard more than 200 of its aircraft, thanks to its tie-ups with dedicated sports channels.
The World Cup has been a great opportunity for airlines to increase their revenues, as demand for air travel has surged. Major airlines have taken wide-ranging measures to raise their capacities and satisfy demand. Airlines that provide live broadcasts have also invested in marketing strategies and product upgrades to increase their overall market share, market insiders said.