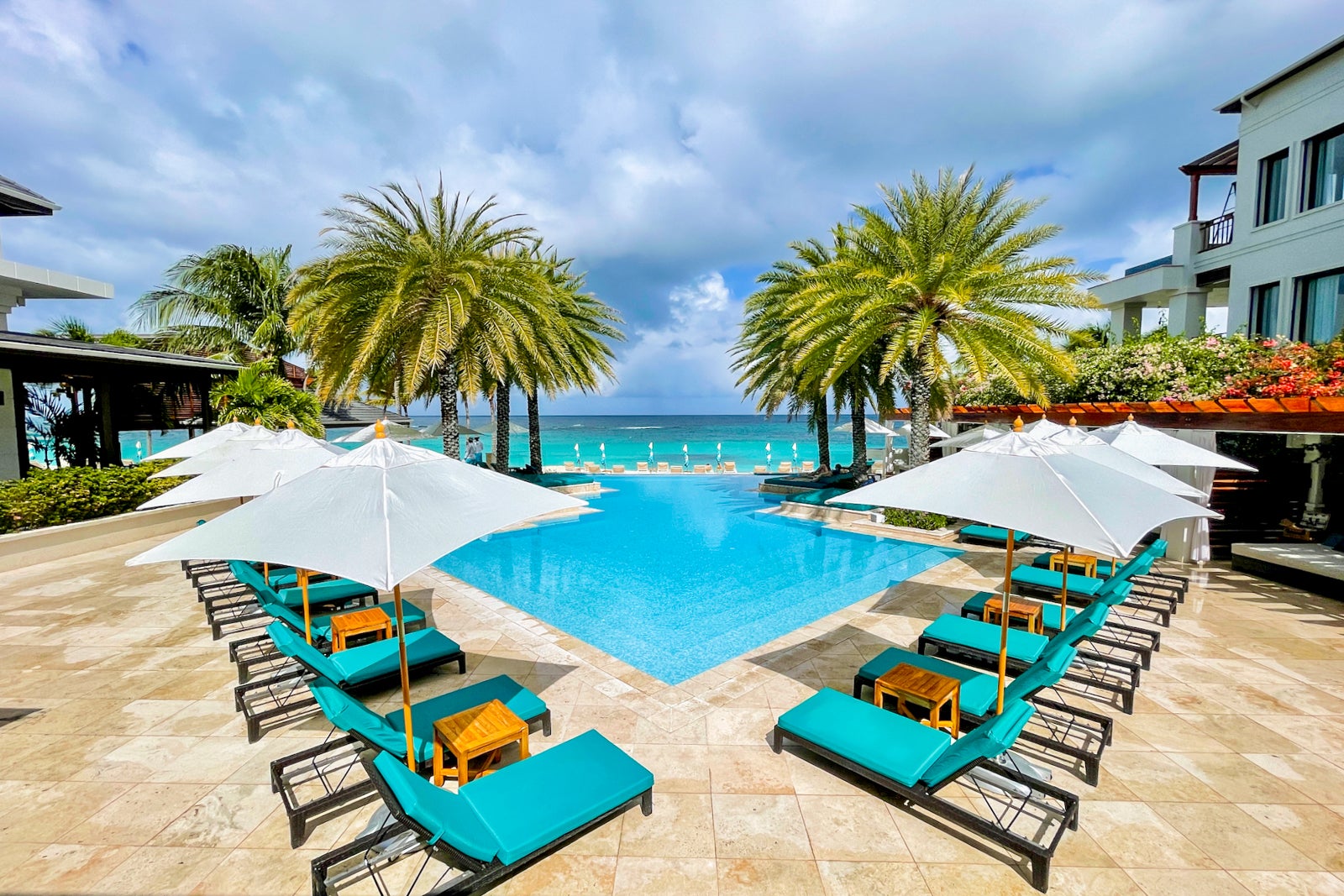 Hilton's best-kept secret: A review of the Zemi Beach House, LXR Hotels & Resorts
I've had my eyes set on visiting the Zemi Beach House in Anguilla ever since it was brought into the Hilton Honors program.
It's one of just a handful of properties that are part of Hilton's fledgling luxury brand LXR. The photos I saw online were stunning and it consistently got glowing reviews from repeat guests. I needed to experience it for myself.
With an abundance of unused vacation days and several Hilton free-night certificates to burn, I decided planning an end-of-year Caribbean getaway was the perfect way to check it out. Getting to Anguilla wasn't as easy as visiting some of the more popular islands in the area, but in the end, I was able to truly disconnect, soak up lots of sunshine and get great value from my certificates.
For more TPG news delivered each morning to your inbox, sign up for our daily newsletter.
Booking
Standard Garden View rooms at the Zemi Beach House start around $860 per night, including taxes, but can top $1,400 per night during busier periods. Since this is classified as a resort, you can partially offset the cost with the up to $250 annual resort statement credit you get by holding the right cobranded Hilton credit card.
While Hilton doesn't publish an award chart, standard room rewards here consistently cost 95,000 Hilton Honors points per night. That's equivalent to $570 based on TPG valuations, making this an excellent use of your points. Alternatively, if you hold an eligible cobranded Hilton credit card like I do, this could also be a terrific opportunity to redeem your Hilton free night certificates.
I ended up booking my weeklong stay using a mix of certificates, points and cash. This was easily one of my best uses of the Hilton free night certificate to date.
Related: The best hotel credit cards that come with an annual free night
Location
Zemi Beach House is in a quiet part of Anguilla in Shoal Bay East. It's on the northeast side of the island, so the beach was facing the Atlantic side as opposed to the Caribbean. While the beach was still idyllic — and regarded as one of the best beaches on the island — this meant it had slightly more rocks than other locations and the water was a bit more choppy. There also wasn't much within walking distance of the hotel, with the exception of some beach shacks like Gwen's Reggae Grill.
Sign up for our daily newsletter
Getting there
Unfortunately, getting to the island was more challenging than I had expected. At the time of my visit, there were no nonstop flights between the mainland U.S. and Anguilla's Clayton J. Lloyd Airport (AXA), though American Airlines has since launched semiweekly flights from Miami (MIA) and will soon add a third weekly flight. My next best option was to fly into St. Maarten's famous Princess Juliana Airport (SXM). From there, I had the option of taking a boat shuttle to Anguilla or a regional flight.
I ended up trying both options — and will write a separate guide comparing them — but in short, I preferred flying. The flight was less than 10 minutes long (fun fact: this is the world's shortest international flight) and the transfer process from my inbound flight was very straightforward. The ferry took much longer and was almost the same price — about $100 each way.
1 of 3
(Photo by Benji Stawski/The Points Guy)
I arranged my taxi rides in advance through the hotel and was able to charge them to my room. The ride from the airport cost $18 and took about 10 minutes, while the one to the ferry terminal took 20 minutes and cost $26.
1 of 3
(Photo by Benji Stawski/The Points Guy)
Check-in
My check-in experience was almost seamless. At the Anguilla airport, my travel companion and I were met by a representative from the hotel who guided us to our taxi and took our welcome drink orders for when we arrived at the resort — a choice of rum punch or fruit punch. When we pulled up to the property, there were staff members waiting to greet us who already had all our arrival paperwork prepared.
There were two lobbies at the resort. One was at the top of the property, intended for check-in and check-out, and the other was at the bottom of the resort along with the restaurants and main pool.
The front desk staff was super friendly, but I was disappointed to learn that my top-tier Hilton Diamond Status wouldn't get me many benefits on this stay. Breakfast and Wi-Fi were already included for all guests and the hotel only upgrades elites to rooms with better views, not suites. So even if you book an ocean view room outright, don't expect an upgrade to a room with a plunge pool or one of the apartment-style suites.
1 of 3
(Photo by Benji Stawski/The Points Guy)
The room
After checking in, our luggage was loaded onto a golf cart and we were driven down the steep hill for a quick tour of the property before eventually heading to our room.
The 76 guest rooms are spread across three buildings and all involve some walking (and potentially stair climbing) to get to the main pool and beach area. Only the residences are directly on the beach.
I was assigned a two queen ocean view room on the third floor of building number three, which is the furthest of the bunch. While no longer required by Hilton, there was a seal on the door signifying the room had been deep-cleaned and undisturbed since that cleaning.
The room was listed as 600 to 700 square feet on the hotel's website, and while I didn't pull out my tape measure, the size seemed accurate. It felt quite spacious, even with the two queen-size beds.
1 of 4
BENJI STAWSKI/THE POINTS GUY
The front door opened to a hallway with a minibar immediately on the right. It was stocked with a small but adequate selection of alcohol, soft drinks and snacks. The prices were fairly reasonable too (for a minibar, that is). Beers cost $6 a bottle, soft drinks were $3 to $4 and spirits were $20 to $45 for 200 ml to 375 ml bottles. There were also an Illy coffee machine, hot water kettle and an ice bucket that was seemingly always full of fresh ice.
1 of 2
(Photo by Benji Stawski/The Points Guy)
The beds were dressed in crisp, white Italian Frette linens and were incredibly comfortable. They had simple wooden frames that were tastefully offset by coral stone-carved bas-reliefs just above the headboards. I also appreciated that there were U.S. power outlets adjacent to the beds, a necessity in today's world.
1 of 2
(Photo by Benji Stawski/The Points Guy)
Across from the beds was a wall-mounted TV with premium movie channels, as well as a long table with two wooden chairs.
There was a more comfortable chair in the corner of the room, but I would have preferred if there was also a round table for in-room dining. The thought of eating next to my companion while facing a blank wall just didn't appeal to me. To be fair, there was a better setup for in-room dining on the balcony (more on that in a moment), but it wouldn't have worked during the sporadic showers.
There were two closets where you could find the usual amenities as well as complimentary flip flops and a beach bag – two fewer things to pack. However, there weren't any slippers — and they weren't available upon request.
1 of 2
(Photo by Benji Stawski/The Points Guy)
My favorite part of the room was the bathroom — and more specifically, the freestanding soaking bathtub. It was complete with a sliding wood bathtub tray stocked with bath salts, a loofah and a rubber duck.
1 of 3
(Photo by Benji Stawski/The Points Guy)
The bathroom was bright and large, featuring a vanity with two sinks, a walk-in shower and a separate makeup table. I loved the combination of unique materials in the bathroom like the stone sinks, copper piping and wooden accents. Toiletries were by Malin+Goetz and were rum-scented, fitting for this Caribbean resort.
1 of 5
(Photo by Benji Stawski/The Points Guy)
All rooms offered large balconies furnished with two comfortable seats, a small dining table and two dining chairs. Although it felt somewhat obstructed, the ocean view was beautiful nonetheless.
While I didn't actually enter a garden view room, I imagine the view would have looked something like this:
Amenities
Naturally, the highlight of the resort was its amenities. And because there weren't a tremendously high number of rooms, the public spaces never felt too crowded.
The centerpiece of the property is a zigzag-shaped infinity pool. It overlooks the ocean and even has an underwater window, which makes for a great photo op. It is only slightly heated but gets plenty of sunshine during the day.
1 of 4
BENJI STAWSKI/THE POINTS GUY
There are plenty of loungers around the pool and they all have a good view of the ocean thanks to the pool's zigzag design. There are also a number of cabanas that are free to use. Although this pool is open to families, it was always fairly quiet during our stay and there was never a fight for chairs. However, the hotel's electronic music selection felt a bit out of place.
1 of 4
(Photo by Benji Stawski/The Points Guy)
The pool deck was stocked with fruit-infused water and free sunscreen — another thing you don't need to pack (or overpay for on the island).
The resort's other pool, a three-tier adults-only infinity pool, is just up the hill closer to the guest rooms.
It offered plenty of seating, but there were rarely other guests here. That's likely because it didn't get nearly as much sunlight as the main pool, didn't offer ocean views and the water felt much colder. However, if you're looking to swim laps, this is the place to do it.
1 of 3
(Photo by Benji Stawski/The Points Guy)
Where I (and most other guests, for that matter) spent most of my time was on the beach. The water shone a pristine turquoise color, perfectly complementing the soft, white sand. While some parts of the beach are a bit rocky, they were avoidable.
The beach offered enough loungers to go around and reserving a chair wasn't necessary. However, unlike at the pools, people started to reserve them anyway during the second half of my stay when the resort got busier. Despite that, the beach still felt more exclusive than your run-of-the-mill resort and had no locals trying to sell you something.
1 of 4
(Photo by Benji Stawski/The Points Guy)
There were attendants to help guests find a spot and set up the chairs. They also always offered complimentary bottles of water in bags of ice, which I much appreciated.
The beach also had a station with sunscreen and more water.
1 of 2
(Photo by Benji Stawski/The Points Guy)
The resort offered kayaks, stand-up paddleboards and snorkeling gear at no charge to guests. Unfortunately, the staff determined the water was too rough to actually use any of the equipment during my stay — a potential downside to staying on the Atlantic side of the island.
Another standout feature of the resort was its Thai-style spa. The treatment rooms are housed in a 300-year-old wooden house shipped from Thailand. Other features include a vitality pool, the island's only hammam, various relaxation areas and a juice bar.
Offerings include massages, facials, healing rituals and scrubs, with 50-minute massages starting at $170. I had the five elements massage, which was a truly relaxing experience. The massage therapist was thorough and tailored the session to my needs.
1 of 3
(Photo by Benji Stawski/The Points Guy)
Just across the spa is an astroturf tennis court. It is free to use during the day and racquets are included, too. The hotel had provided a cooler with water bottles, towels and bug spray, which was a thoughtful touch.
1 of 2
(Photo by Benji Stawski/The Points Guy)
For those who prefer working out indoors, there is a 24-hour fitness center. It is on the smaller side but still well-equipped (sans Pelotons). It would have been nice if the resort offered group fitness or yoga classes, but it sadly didn't.
1 of 3
(Photo by Benji Stawski/The Points Guy)
While I didn't see many children during my stay, there was a kids club for those ages 4-12. It was included for no additional charge, which could be a real money-saver for families.
Free Wi-Fi was available throughout the resort, including at the beach. Speeds measured 19.15 Mbps download and 18.28 Mbps upload. That isn't the fastest I've encountered but should suffice for streaming movies and FaceTiming relatives back home.
Food and drink
Food and drink is an area the hotel could improve in.
With one exception, none of the dishes I had were particularly bad — but none of them were particularly exciting, either. Overall, the food felt more akin to what you'd expect from a megaresort than a hotel of this caliber. Prices were a bit steep but in line with expectations for the island.
The hotel's main restaurant is called 20 Knots. It's right by the beach and was open for breakfast, lunch and dinner.
1 of 4
(Photo by Benji Stawski/The Points Guy)
There were a variety of seating options, but my favorite was outside at the tables on the sand. There's just something so satisfying about dining barefoot with your feet sinking into the sand.
1 of 2
(Photo by Benji Stawski/The Points Guy)
Breakfast was buffet-style and included for all hotel guests. It offered the usual suspects like made-to-order eggs, French toast, pastries, cereals, cheeses and cold cuts, but lacked some local flavor. For instance, it would have been nice to have tropical fruit like mango or coconut in addition to the berries and melon.
1 of 5
(Photo by Benji Stawski/The Points Guy)
My companion and I also ate most of our dinners here, though it didn't take long to get tired of the food options. The menu ranged from pizza and pasta to tacos, lobster and steak.
We tried our best to stick to local dishes that would exemplify island cuisine, but our options were limited. My favorite dish was the red Caribbean curry ($26) with tofu, mixed vegetables, raisins, coconut rice and mango chutney, while my companion was a fan of the grilled spicy lobster ($55). The local red snapper fillet ($28) was tasty, too, albeit not very authentic with its thick lemon butter sauce. The Caribbean lobster mac and cheese ($28) and tuna tartare ($23) were bland and worth skipping.
1 of 3
(Photo by Benji Stawski/The Points Guy)
20 Knots also provided the beach and poolside food. The fish tacos ($23), mahi-mahi skewers ($23) and burger ($26) all hit the spot. That said, I'd still recommend trying out the nearby beach shack Gwen's Reggae Grill for lunch instead (where I highly recommend their grilled seafood and rum punches).
1 of 3
(Photo by Benji Stawski/The Points Guy)
The hotel's other restaurant is Stone and it was only open for dinner. It was meant to be more upscale, with higher prices to match. However, its Asian-European fusion menu didn't really appeal to us so we didn't try it out.
The hotel also offered two themed dinners that we partook in.
The first was a Caribbean beach BBQ and it was not to miss. It cost $65 and included a buffet of salads and fresh-off-the-grill meat and seafood, including lobster. This was definitely the tastiest meal we had on site at a relatively good value.
1 of 5
(Photo by Benji Stawski/The Points Guy)
The second was sushi night and it was a huge letdown, especially considering how much the staff had hyped it up. While our expectations weren't very high, the meal was so bad that my companion and I left to eat at 20 Knots instead.
The prices were comparable to what you'd pay at a restaurant like Nobu — think $17 for a six-piece vegetable roll, $7 for a piece of tuna nigiri and $26 for a miso cod bite. But the quality was far from it. Our lobster and spicy salmon rolls were drenched in heavy sauces and the fish tasted off. (Not to mention, the order took an hour to come out.)
There are a total of three bars, with the main one being Bohio. There was often live music here and this is also where the sushi bar was located. Cocktails cost $16, mocktails cost $8 and beers were $6 to $8.
There is another bar on the beach right by 20 Knots.
And finally, there is the Rhum Room, an ultra-chic rum-and-cigar lounge. There was a dedicated "rummelier" who had extensive knowledge of the more than 100 varieties on hand.
I'm not usually a big rum drinker, but I thoroughly enjoyed my fruity "Guabanacex Sour" cocktail ($18) and learned a lot from my tasting session. The presentation was also wonderful.
1 of 2
(Photo by Benji Stawski/The Points Guy)
If you preferred to eat in the privacy of your room or balcony, there was 24-hour room service available with no delivery fee. There was even a continental breakfast option that guests could order for no additional charge.
Service
Service definitely matched my high expectations from the LXR brand.
Everyone I interacted with was friendly and seemed well-intentioned. I was greeted by name throughout the stay and the beach attendants knew that I wanted a chair in a sunny spot each day.
Upon arrival, there was a Diamond welcome gift waiting for me: a fruit plate and bottle of prosecco. During our days on the beach, the staff brought around fruit skewers, cold towels and once even free cucumber cocktails. Nightly turndown service was automatically provided and always included freshly baked cookies and water bottles.
The service deteriorated a bit as the hotel's occupancy went up, but I'll give the hotel the benefit of the doubt and assume it was because it had recently reopened and wasn't fully staffed yet.
Accessibility
The resort did not cater well to those with disabilities.
There were no specially adapted accessible rooms and the property lacked some key accessibility features like a pool lift, Braille signage, ramps for all public spaces and grab bars in the bathrooms. As mentioned, the resort was set on a steep hill so those with mobility concerns probably would need to call up a golf cart to get around.
Overall impression
All in all, my first experience with the LXR brand was a success. The Zemi Beach House has beautiful grounds and the service was top-notch. This is not your run-of-the-mill Hilton.
The resort was generally quiet and relaxing, and although there were family-friendly amenities like a kids club, it didn't feel overly family-focused, making it perfect for couples and families alike. While getting there wasn't a total breeze, the island had an exclusive feeling and ultimately wasn't that far, especially considering the new nonstop flight options from the U.S. My Hilton elite status didn't go very far, but I still felt like I got terrific value from my free night certificates and points.