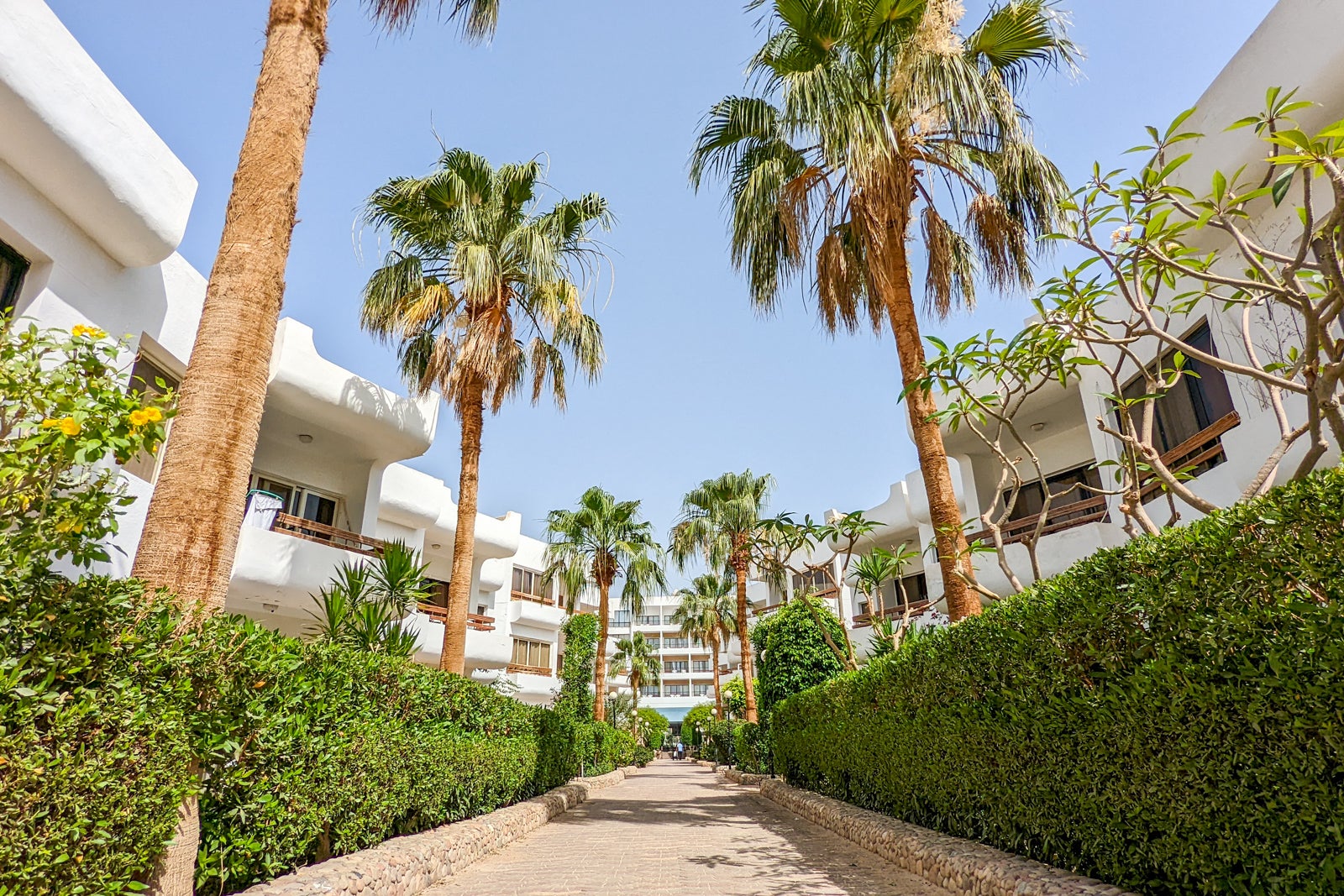 Here's what happened when I stayed at the cheapest all-inclusive resort in Egypt
I've been dipping my toes into the world of all-inclusive accommodation.
I started with an adults-only four-star hotel in Mallorca, Spain, before the pandemic. Then, because of the brutal winter 2020-2021 lockdown, it was eight months before I set foot outside of Central London to embark on my next all-inclusive excursion. Once the lockdown lifted, I spent an amazing week at a gorgeous five-star all-inclusive resort in Kos, Greece, which featured the most spectacular hotel pool I have ever seen in my life.
Earlier this year I visited Tenerife, in Spain's Canary Islands, and I decided to stay at the cheapest all-inclusive on the island. It was nothing glamorous, but it offered a surprisingly decent and fun experience for a very low price.
Inspired by this low-cost, all-inclusive experience, I decided to see how far my money would stretch in Egypt — a traditionally affordable destination — when I took EasyJet's longest flight there.
Here's what I experienced at the cheapest all-inclusive resort in Egypt.
For more TPG news delivered each morning to your inbox, sign up for our daily newsletter.
Booking
After a six-hour flight on a low-cost carrier, I knew I would need some time to recover; so l looked for three-night accommodation options in Egypt. There were a few requirements in my search for all-inclusive accommodation. It had to include alcohol (for research purposes, of course, since alcohol is not that common in Egypt outside tourist areas). It also needed to have a pool and/or beach access, and it had to be classified as a resort, rather than just a city hotel with a few free meals.
In my experience, Booking.com is the best place to search for budget all-inclusive options because you can sort by price and easily filter an entire country's properties to show only the all-inclusive options. There were plenty of cheap options in both Hurghada and Sharm el-Sheikh for under 50 euros ($62.82) per night. In comparison, my Tenerife all-inclusive was 56 euros ($70.36) per night.
Then, I spotted an absolute bargain Booking.com Genius member discount option of just 33 euros ($41.46) per night at the Marlin Inn Azur Resort in Hurghada. This ticked all the boxes — right on the beach, pool, all-inclusive with alcohol included and the cheapest price I could find anywhere.
Sign up for our daily newsletter
The property bills itself as a four-star resort, which I found difficult to believe for that price. While the reviews on Booking.com were okay — it was rated as a 7.6 out of 10 — the most recent review on the resort's own website was worrying.
Shower water was yellow and didn't clear for the 5 minutes I left it running. Small pool, pathetic gym, beach too small for the amount of beds on it. Would not stay here again. Food was reasonable at best.
Oh well, at least the food was reasonable. What could go wrong?
Check-in
I visited Egypt many years ago, but this was my first visit to Hurghada. My EasyJet flight landed at a sparkling new and deserted Terminal 1 at Hurghada International Airport (HRG). Unlike the chaos of the country's busiest airport, Cairo International Airport (CAI), the arrival experience at Hurghada could not have been easier or more pleasant.
I got through immigration in less than five minutes, and it only took another five minutes for a friendly and efficient sales assistant to help me pick up a local SIM card (as I had read the resort's Wi-Fi did not extend to the guest rooms).
With a 9 p.m. arrival time after a long travel day, I treated myself to a pre-booked private transfer to the resort, which I booked through Booking.com for the grand price of 7 euros ($8.80). The Marlin Inn is less than a 10-minute drive from the airport, and first impressions were good — the resort was huge.
Related: 11 incredible all-inclusives for people who hate all-inclusives
Upon entering the huge sunken lobby, I noticed there were staff members everywhere. During my stay I must have seen at least 100 staff members, and I rarely saw the same person twice. Interestingly, every single one was male. I quite liked the design and furnishings — it felt like faded glamour and fit the destination well.
Check-in was efficient and the staff was friendly. They gave me a wristband, though I was not given any information about any dining times, activities or services available to me during my stay. I assumed there would be an informational sheet in my room, but there wasn't. So, I made a trip back to reception where they gave me said sheet.
I don't know why this information was not provided when I checked in.
Room
I had booked a standard double room, which was the very cheapest option. Random sofas and bench seating were arranged along the corridors, though they were never used by the limited number of guests staying at the resort. I imagine when a piece of furniture is no longer suitable for a guest room it is just dumped in the corridor instead of thrown out?
A glance out of the window at the properties on either side of my resort reminded me I was not in Kansas anymore.
My first impressions of the room were great — it was spacious and had working air conditioning. (Outside temperatures reached the high 80s during my visit.)
The bed was really comfortable, and I slept surprisingly well. I'm very fussy when it comes to pillows, and these were great. No bed bugs or stained sheets here.
My balcony had two chairs and a partial ocean view which gave me a sense of how big the resort is. (Everything in this photo is the Marlin Inn.)
The television, mounted on the wall, was more scratched than my first car. How do you even scratch something mounted on a wall?
1 of 2
(Photo by Ben Smithson/The Points Guy)
There were tea- and coffee-making facilities in the room, but there were no mugs to drink from (and I didn't fancy testing out the strength of the glass tumblers with boiling hot water). This lack of attention to detail would come to be a common theme during my stay, but at this price, I didn't expect perfection.
Related: 10 all-inclusive resorts in Europe for winter sun and snow
As expected, the Wi-Fi only worked in the lobby and didn't extend to the room; I was glad I had organized my local SIM card. There was a fridge in the wardrobe, and I naively hoped it was stocked with an extensive range of chilled beverages, replenished daily as part of my all-inclusive payment.
Not at this price point, though. There was just a single large bottle of water, with a note saying I was only allowed one bottle of water per person per day.
The bathroom had everything I needed, and contrary to some previous reviews, the shower water was both clear and hot (though the water took several minutes to warm up).
I made the mistake of closely examining both the showerhead and the drain. They both looked like they'd last been properly scrubbed around the time of Tutankhamun, so I tried to ignore this as I showered.
1 of 2
(Photo by Ben Smithson/The Points Guy)
Overall, I was impressed with the room. I've stayed at far worse places during my travels that have cost me much more.
Food and beverages
The food was the part of my Egypt all-inclusive experience I was dreading the most — especially since I was to be eating every meal there for three days. On my previous visit to Egypt, I stayed in much more expensive accommodation and visited decent restaurants; I still didn't like the food, but it's reasonable to assume others may fare better. Following my previous stay, I left a 10-day visit to the country with no clue as to what Egyptian cuisine actually was — most menus just offered poorly cooked Western options like pizzas and hamburgers.
Back to this all-inclusive: Meals were all served buffet-style in the resort's huge main restaurant, which featured seating options indoors and outdoors.
I was impressed by how many hours per day food was available to guests. This included:
Continental breakfast from 5 to 7 a.m.
Hot breakfast from 7 to 10 a.m.
Baked goods from 10 to 11 a.m.
Lunch from 12:30 to 2:30 p.m.
Snacks (at the beach bar) from 1:30 to 5 p.m.
Dinner from 7 to 9:30 p.m.
Late-night snacks from 10 to 11:30 p.m.
This means from 5 a.m. until almost midnight, there's food available a vast majority of the time. Here's an example of the morning "baked goods" option — perfectly fine for a light snack.
Some buffet items appeared at breakfast, lunch and dinner. I liked this as once I found something I enjoyed, I knew I could have it for every meal if I wished. I was a little wary of food hygiene, so I loaded up on the salad ingredients, and enjoyed the hummus and tahini to dip items into.
I love Middle Eastern food and was very pleased to see so much of it featured in the restaurant, rather than just attempts at Western classics. I made a beeline for the hot falafels each breakfast. The "orange juice" on offer was the type of vile orange cordial drink that somehow has more sugar in it than orange juice.
The falafels were certainly not the best I have eaten (more powdery than crispy), but they were edible. I also had plenty of Arabic bread with every meal.
Some of the hot options were not appetizing at all — these sunburned beef sausages were vile and tasted even worse than they looked.
1 of 2
(Photo by Ben Smithson/The Points Guy)
In addition to the above, there was a live outdoor cooking station adjoining the restaurant with a different option for each meal.
For breakfast, there were made-to-order omelets, and for lunch and dinner there were more random and unexpected options. One lunch featured freshly grilled quail — a fancy treat that made me return for seconds. It was a little dry and overcooked, but I figured this was safer to eat than if it was still pink in the middle.
1 of 2
(Photo by Ben Smithson/The Points Guy)
Dinner options were quite random. I spied a queue for roasted duck, and the chef dumped literally half a bird on my plate. Tempura vegetables were the side that evening — I still don't know what traditional Egyptian cuisine is, but I'm guessing that's not it.
There were plenty of sweets on offer with all meals. With unlimited food for 16-plus hours a day, I could have easily gained a stone during my three-day stay, so I drew the line at the pudding. It's a good thing for my waistline that the food was not particularly high quality because it limited the amount I ate.
I wouldn't say I dreaded each meal, but I didn't exactly look forward to it.
The beach bar had a wood-fired oven that chefs used each afternoon. On the first afternoon, the chef made pizzas to order which looked pretty good.
1 of 2
(Photo by Ben Smithson/The Points Guy)
I did treat myself to the freshly made Turkish pide they made to order the following day. I've grown to love this simple flatbread snack from my travels on Turkish Airlines, and this Egyptian version was pretty tasty and nicely cooked.
Related: Oh my gozleme: A review of the Turkish Airlines business lounge in the new Istanbul Airport
This beach bar snack feature was great and very popular with guests — it was not something I was expecting at such a budget property.
As for drinks, the offerings were far less comprehensive and enjoyable. I'm used to alcohol being scarce in this part of the world, and I was advised that the all-inclusive rate only included tea, coffee, juices, beer and cocktails. (Wine was an additional charge and I did not recognize any of the labels.)
The hotel bar was called Joker's Bar, though ironically the bartender didn't have much chat.
Coffee was available from a Nescafe-style machine, and because it featured powdered milk instead of fresh milk, it wasn't my favorite. Pepsi was the main soft drink available and often wasn't cold.
Egyptian-branded Stella beer was available at Joker's, as well as at the restaurant bar during main meal times and at the beach bar during the day. Bartenders poured it from large bottles into tiny cups that held about two sips of beer.
The temperature of the beer varied greatly depending on where you ordered it. The bartenders at the beach bar wouldn't bother to put the bottle back in the fridge, so it would quickly reach room temperature as the sunshine exceeded 80 degrees each day.
The cocktails at Joker's were a hilarious disaster.
While the bartender was enthusiastic about making anything on the limited menu, it was clear he didn't taste any of his concoctions nor did he know what they were supposed to taste like. I ordered a mojito on the first night, and this is what arrived.
It did have actual lime floating in it so props for that, and I could taste a healthy slug of rum. This interpretation of a classic cocktail appeared to have a liberal amount of creme de menthe rather than, say, actual mint. He also added a splash of room-temperature lemonade and a couple of half-melted ice cubes.
It tasted like I had just brushed my teeth and then rinsed my mouth out with Bacardi.
Needless to say, I didn't order a second.
The tequila sunrise was a slightly more successful effort. Made with the Pharoah brand of tequila (a low-rent brand I had never heard of), it at least roughly resembled an actual tequila sunrise — in presentation at least. It didn't seem like anyone shook this cocktail (or any cocktail for that matter), as with each sip I'd get either pure luminescent sugar or pure tequila.
The drinks were so bad I found a nearby pub that served actual full-size, cold beer and paid for a cleansing ale on the last night rather than facing another session at Joker's.
Related: Why all-inclusive resorts are more attractive than ever following the pandemic
Amenities and activities
An awkwardly placed pool crammed right next to reception and the main restaurant did not see many visitors during my stay.
I was most looking forward to the resort's beach, and it was decent. The property was less than 50% full, so there was plenty of room at the beach. Plus there were sun loungers and umbrellas available for all guests.
The beach was fairly small, but the water was cool, refreshing and popular with guests looking to escape the heat. The ugly ferry terminal right next door wasn't in the brochure, but it was otherwise a pleasant place to soak up some sunshine.
Related: 13 mistakes to avoid at all-inclusive resorts
There was a small on-site gym above the entertainment stage, but I didn't see this until my very last day. It was not listed anywhere on the information sheet I received.
As for entertainment, there was a dedicated "activation team" featuring a few female staff members (the only ones I saw at the resort) who would get up to throw some shapes when a particular song played at the beach. (The same eight songs played over and over.) They also led the odd stretching or belly-dancing class near the ferry terminal, but otherwise they spent most of the day lying on sunbeds, using their phones or chatting up guests.
1 of 2
(Photo by Ben Smithson/The Points Guy)
The only entertainment I saw in the evenings was a game at the main stage where guests could win prizes by guessing the snippet of each song played.
Service
Service was well intentioned across the resort. The clientele was international — I heard mostly Arabic, German and French spoken by other guests. My unusual accent led every single staff member to ask "Where you from?" Once I told them, they all responded with, "You are very welcome here."
Most staff members didn't speak much English, but they were all friendly and hardworking. They weren't given much to work with at this price point and I assume they didn't get much training, since most seemed unaware that beer is best served cold or that mojitos traditionally have fresh mint rather than a mint liqueur.
Bottom line
Overall, the cheapest all-inclusive resort in Egypt was slightly better than I expected. It really does offer extremely good value for the money. I really liked my room and enjoyed three nights of really good sleep.
The beach was pleasant, and the cooked-to-order pide and pizza each afternoon was a treat I was not expecting for 33 euros ($41.46) per night. Staff members tried their best with what they had — they were never going to provide five-star service at a property like this. The four-star rating the property advertises was very generous; I'd give it three stars at best.
The food and drinks were the most disappointing part of the experience. The food wasn't particularly healthy, fresh or delicious, and I found myself dreading some mealtimes. If I'm going to eat junk I at least want it to taste good. If you're planning on sinking pints in the sunshine all day during your visit here, be prepared for tiny glasses of warm beer. The cocktails were no better.
How did it compare with the cheapest all-inclusive resort in Tenerife? At around half the cost, the Marlin Inn Azur Resort was certainly an incredible value. You get a lot for your money here, though for food and drinks alone I would definitely opt to pay a bit more for something higher quality next time.
I much prefer Tenerife to Hurghada as a destination because I feel the staff members have a better understanding of what Western tourists are looking for. The room and service were better in Hurghada, while the food was about the same but the drinks were far worse.