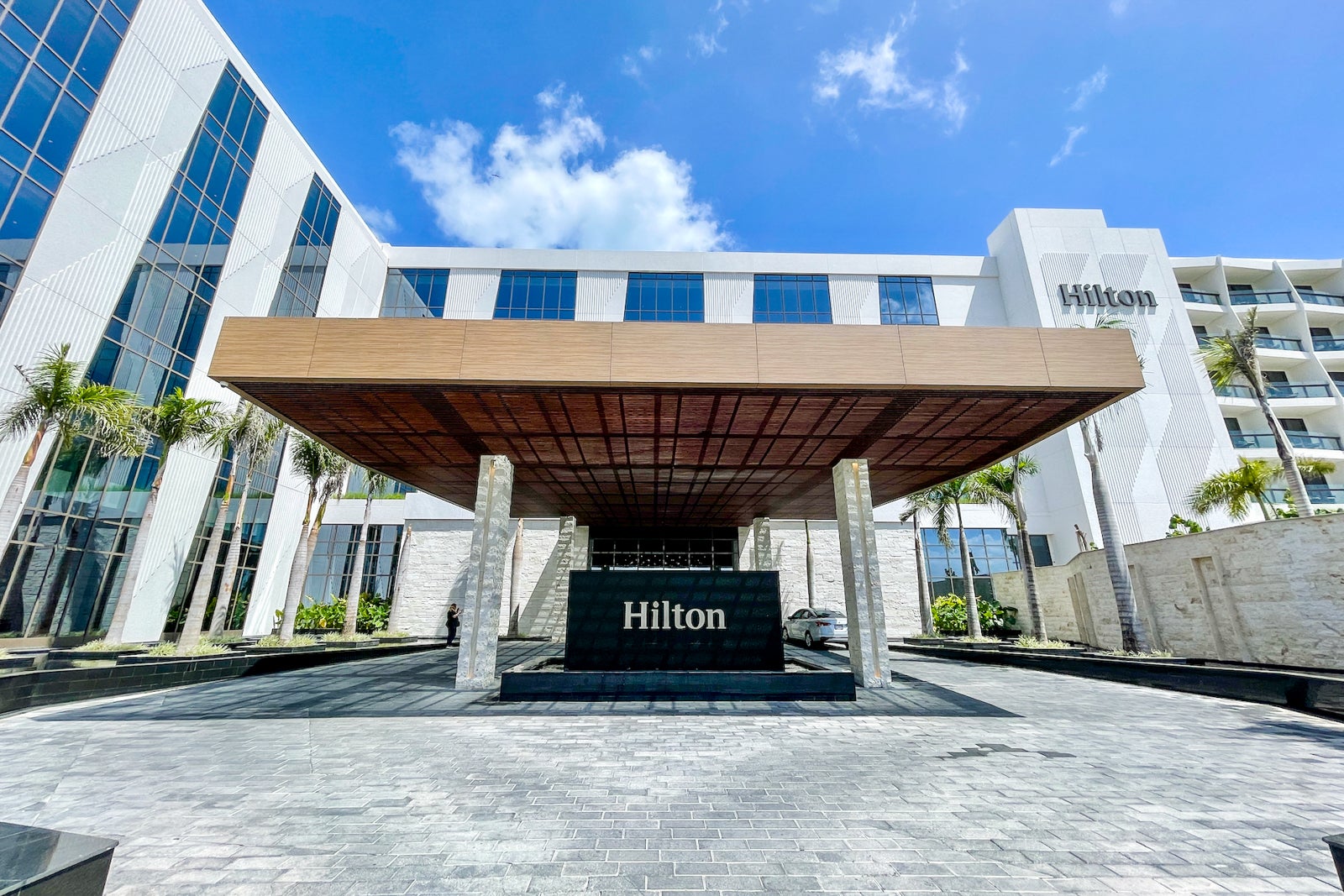 Great for families: A review of the stunning new Hilton Cancun, an All-Inclusive Resort
After much anticipation, the Hilton Cancun, an All-Inclusive Resort started welcoming guests in November 2021. It opened as a part of a series of new Hilton hotels being developed in the area, including the adjacent Waldorf Astoria Cancun (opening in September), the Conrad Tulum Riviera Maya and the Hilton Tulum Riviera Maya, an All-Inclusive Resort.
I was particularly excited for this hotel to open as the renderings looked incredible, resembling a higher-end Conrad hotel more than a typical Hilton. Of course, finished products don't always live up to expectations, so I wanted to experience the new resort firsthand and a recent trip to Mexico was the perfect opportunity for me to do so. My stay would be about five months after the property first opened its doors, giving it plenty of time to iron out any new-hotel kinks.
Here's how it went.
---
Ready to book or just looking? Take our one-question survey.
---
Cost
Rooms here usually cost between $500 and $700 per night, based on double occupancy, but sometimes drop below $400 during less busy times of the year. The deal is even sweeter for families. Now through at least Dec. 15, children ages 12 and younger stay free, while kids ages 13-17 will incur a $150 nightly charge. Just be sure to include the correct number of guests during booking or you may have fees added on later.
Alternatively, you can book your stay with Hilton Honors points. An award night usually costs a flat 95,000 points for two adults. As usual, Silver, Gold and Diamond Hilton elite members receive their fifth night free on award stays. You can get automatic Hilton elite status by carrying any of the program's cobranded credit cards.
Related: How to choose the best Hilton credit card for you
Location
The Hilton Cancun is located on a secluded stretch of the coastline behind a mangrove nature preserve. It's about 20 minutes from Cancun International Airport (CUN) and 30 minutes south of the busy hotel zone. The forthcoming Waldorf Astoria Cancun will be located right next door and guests have access to a complimentary shuttle to the Canopy by Hilton Cancun La Isla if they want to visit the more touristy area of Cancun.
Check-in
1 of 3
(Photo by Benji Stawski/The Points Guy)
I arrived around 2 p.m. but the check-in process wasn't the quickest. The front desk felt understaffed for a resort this size and there was no dedicated line for elite members. However, the soothing lemongrass scent wafting through the lobby and apple-cinnamon welcome drink helped pass the time.
Sign up for our daily newsletter
As a top-tier Diamond elite, I didn't get an automatic upgrade ahead of my stay and wasn't proactively upgraded during check-in, but I did receive a great multiple-category upgrade after asking. I originally booked an oceanfront king room and was upgraded to an oceanfront one-bedroom suite. The price difference between these rooms is usually around $200 per night — not bad.
Related: Tips to get the hotel room upgrades you deserve
The room
Rooms were spread across two connected wings, each with its own pools. While noise wasn't an issue, my side technically was louder since it faced the kids pool area.
At over 800 square feet, my oceanfront one-bedroom suite was spacious, complete with separate living and sleeping areas, a powder room and a furnished balcony that spanned the entire length of the room.
1 of 6
(Photo by Benji Stawski/The Points Guy)
Upon entering the suite, there was a hallway with a minibar, closets and, on the other side, the entrance to the powder room. The bedroom was just off the living room, separated by a door.
As expected, the room felt modern and fresh and still had that new-hotel smell. The design was minimalist but chic, with pops of color and nods to Mexican culture in the artwork.
I particularly loved the wood finishes throughout, which added some warmth to the room. The room certainly looked as beautiful as the renderings — if not better – and felt more upscale than a typical Hilton.
1 of 2
(Photo by Benji Stawski/The Points Guy)
But it wasn't just about good looks — the room was functional, too. The bed was comfortable, the linens were crisp and there were plenty of power outlets and USB ports throughout, including on both sides of the bed. I also appreciated the wireless bedside phone charger after having lost my cord.
1 of 3
(Photo by Benji Stawski/The Points Guy)
In addition to the large sofa and dining table in the living room, the bedroom had a cushy divan with a small round table by the window and a small workstation tucked away in the corner.
The primary bathroom was separated from the bedroom by a tinted sliding door. It was bright, large and beautiful, kitted out in marble, with double sinks, a separate toilet room and a large walk-in shower with frosted-glass doors. While I didn't mind, there was no bathtub, which some might expect from a suite.
1 of 4
(Photo by Benji Stawski/The Points Guy)
Toiletries weren't from your usual Hilton brand. Rather, they were from the Mexican brand Persea Apothecary, scented with rosemary and in large-format bottles, which felt a bit more luxurious.
The minibar was located by the main entrance and was stocked with various soft drinks, Tecate and Dos Equis beer, Lay's potato chips, peanuts, chocolate chip cookies and a Nespresso machine. All items were free of charge.
1 of 2
(Photo by Benji Stawski/The Points Guy)
Amenities
The highlight of the property was its pools. There were two large infinity pools on each side of the hotel.
1 of 3
BENJI STAWSKI/THE POINTS GUY
They looked practically identical but the one closer to the kids club attracted more families while the other attracted more adults. That said, there were still splashing kids at both pools and neither of them was particularly quiet.
1 of 4
(Photo by Benji Stawski/The Points Guy)
There were plenty of lounge chairs surrounding the pools, as well as some actually inside the water, so there was no need to get up early to "reserve" them. For better or worse, there were no cabanas available, not even for a fee.
1 of 4
(Photo by Benji Stawski/The Points Guy)
Behind the family pool was a kids pool area and splash playground with slides and a giant water bucket.
1 of 2
(Photo by Benji Stawski/The Points Guy)
There was also a fully staffed kids club with a variety of daily activities located near the family pool, as well as a teen zone for those ages 13 to 17 with activities like sports tournaments and arts and crafts. Put simply, the hotel was very family-friendly.
1 of 2
(Photo by Benji Stawski/The Points Guy)
The private beach was long but, unfortunately, overrun with seaweed — a problem for many resorts in the area. Oddly, there were no water sports or activities like beach volleyball available.
1 of 3
(Photo by Benji Stawski/The Points Guy)
While there were a few group fitness classes like morning yoga, the daytime activities were limited for adults. Water aerobics was on the schedule but didn't actually end up taking place.
Likewise, although there was a nightly show for families, such as a performance of "Aladdin," the evening entertainment was lacking. For instance, there wasn't even a DJ playing on a Friday night.
The gym was on the smaller side for a property of this size but still had all of the necessities, such as free weights, treadmills and stationary bikes. It was open from 6 a.m. to 11 p.m. daily.
1 of 2
(Photo by Benji Stawski/The Points Guy)
It would've been nice if the property also had some sports courts but it didn't. Interestingly, there also wasn't a spa on site but guests will have access to the one at the adjacent Waldorf Astoria once it opens.
Food and drink
The Hilton Cancun is home to 10 restaurants and bars, including a buffet, Mexican restaurant, Asian restaurant, Italian restaurant and steakhouse. With the exception of the buffet and Sunan (the Asian outlet), all restaurants required reservations for dinner, but I never had trouble booking a table. All restaurants were also part of the all-inclusive experience, so I didn't pay anything further out of pocket to dine anywhere at the resort.
Overall, the food quality was pretty good, but certainly not memorable. The menus had icons to distinguish vegetarian, gluten-free and dairy-free items, but I found the vegetarian options to be lacking.
Vela – international buffet
The buffet was open for breakfast, lunch and dinner. The food was solid and there were several live cooking stations, but the selection was pretty consistent from day to day so it could get repetitive if you ate here every day. I particularly enjoyed the cooked-to-order omelets in the mornings and fresh sashimi available every day for lunch and dinner. Staples like pancakes, cold cuts, burgers and a salad bar were also available. The space itself was very large and I never had trouble getting a table either indoors or outdoors, even during peak times.
1 of 12
(Photo by Benji Stawski/The Points Guy)
Sunan – Asian cuisine
Unlike most all-inclusives I've been to, the Asian restaurant, Sunan, was open for lunch and dinner and didn't need reservations. It offered tasty options like fresh spring rolls, sushi rolls, pad thai bowls, ramen and grilled skewers.
1 of 2
(Photo by Benji Stawski/The Points Guy)
The restaurant had a beautiful setting overlooking the beach, but it was set up more as a lounge with sofa seating and low tables, which I didn't think were very comfortable for eating. So, although the food was great, for that reason, I'd recommend coming here for a quick lunch or pre-dinner snacks rather than a full meal.
1 of 2
(Photo by Benji Stawski/The Points Guy)
Maxal – Mexican dishes
The Mexican restaurant doubled as a taqueria for lunch and a full-service restaurant for dinner. Although the space was tastefully decorated, the food was unfortunately the most underwhelming I had at the property. Dishes included grilled bone marrow, quesadillas and fish tacos, but overall the food lacked flavor and didn't feel very authentic.
1 of 3
(Photo by Benji Stawski/The Points Guy)
La Luce – Italian cuisine
Although I didn't have high expectations for the Italian restaurant, it ended up being one of my favorites. It was a beautiful space with bubble-like lights suspended above the space and an open kitchen, complete with a wood-fired pizza oven. My Napoletana pizza with arugula was light, fluffy and absolutely delicious. Other menu items included pasta and some heartier options like braised short rib.
1 of 4
(Photo by Benji Stawski/The Points Guy)
Auma – steakhouse
The fanciest restaurant was Auma, located just off the lobby. The menu was centered around the grill, featuring items like charred beet carpaccio, grilled ahi tuna and New York strip steaks.
1 of 3
(Photo by Benji Stawski/The Points Guy)
Food carts
During the day, there were food carts by both of the pools serving fresh burgers and grilled seafood. They didn't have any vegetarian options.
1 of 2
(Photo by Benji Stawski/The Points Guy)
Azulinda Market and Cafe
Open from 6 a.m. to 11 p.m. was the lobby coffee shop and cafe, Azulinda. It offered everything from morning pastries to made-to-order sandwiches, pizzas and other snacks.
1 of 3
(Photo by Benji Stawski/The Points Guy)
La Churreria – dessert shop
For those craving sweets, there was a dessert shop located across from the kids club that served fresh churros, ice cream and other sweets.
Bars
No matter what part of the property you're in, you're never too far from a bar. The drinks didn't taste watered down and there were a number of high-end brands available, like Belvedere, Grey Goose and Johnnie Walker Black Label — you just needed to remember to specifically request them.
I enjoyed my mango daiquiri, which was the perfect balance of sweet and sour. The bar by the family pool also had some great nonalcoholic options like horchata and tamarind agua fresca. You could either walk up to a bar to place an order or order drinks through the servers that passed by regularly.
1 of 5
(Photo by Benji Stawski/The Points Guy)
Room service
Finally, there was 24-hour room service available at no extra cost. The food typically took an hour to arrive and wasn't great. The guacamole and chicken soup were bland, while the fries, in particular, were very soggy.
Service
As mentioned, the front desk felt a bit understaffed so check-in and checkout were a bit slow. There were also several power outages during my stay (around 30 minutes long) with no communication from the staff. Aside from that, though, the service was generally good and the staff seemed genuinely excited to be working there. Although Hilton now offers housekeeping only by request at most hotels, my room was still meticulously cleaned every day without having to ask.
Overall impression
The Hilton Cancun is a beautiful new resort — really, kudos to the designers, the property felt very upscale. And although not necessarily memorable, the food was perfectly fine for an all-inclusive. However, given that the beach wasn't really swimmable and the entertainment was limited for adults, the only real thing to do was lounge by the (noisy) pool so I started to feel borderline — dare I say — bored after a few days. I probably won't be rushing back anytime soon myself, but would definitely recommend it to families, particularly those with younger children.