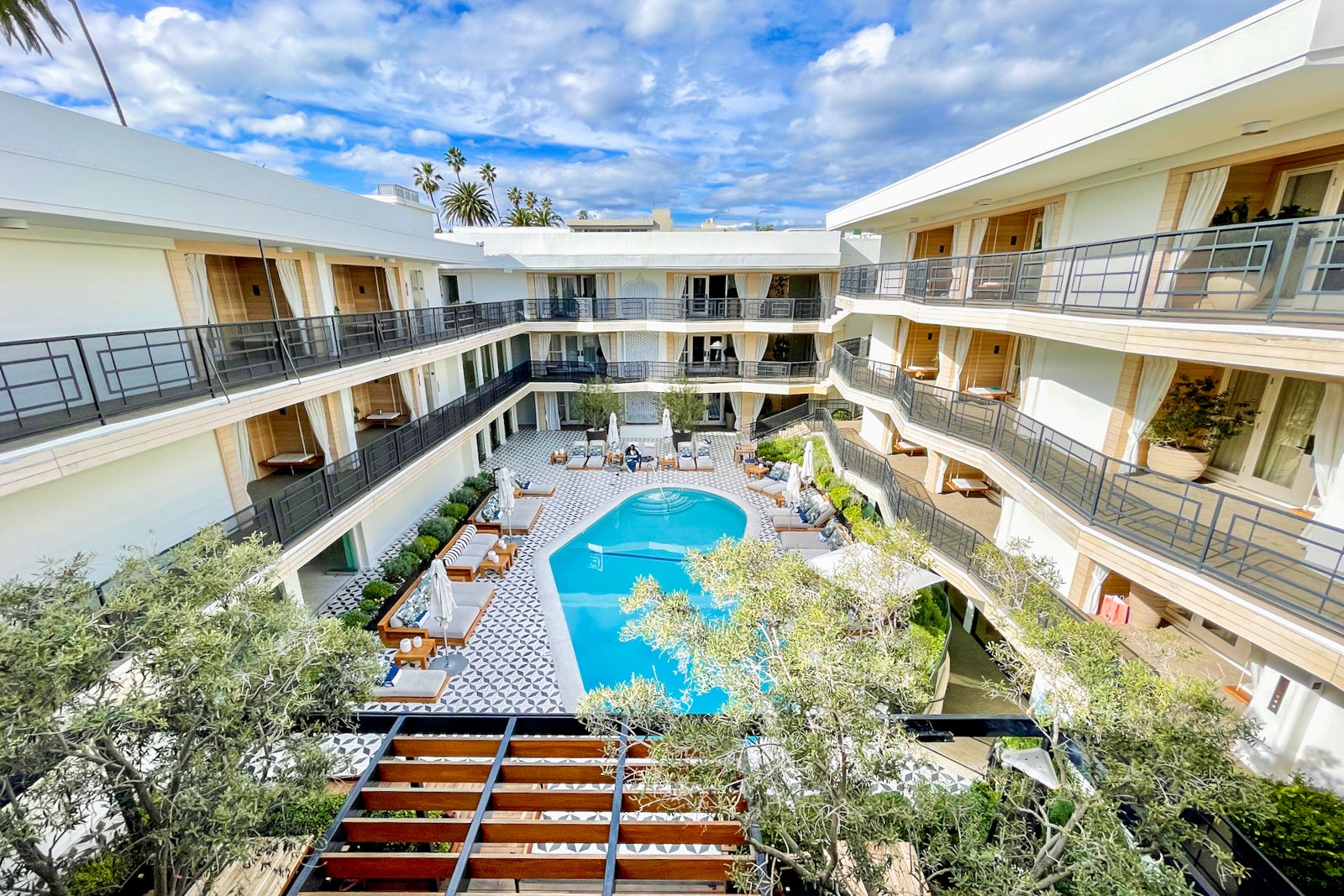 Below expectations: A review of Hilton's Oceana Santa Monica, LXR Hotels & Resorts
Ask anyone what the most luxurious Hilton-brand hotel in Los Angeles is and they'll probably say the Waldorf Astoria Beverly Hills.
Drive seven miles west and you'll be at the Oceana Santa Monica, part of Hilton's other luxury brand, LXR Hotels and Resorts.
Some folks might overlook the Oceana since it typically charges similar rates as the Waldorf Astoria but its name doesn't carry the same prestige. However, after an impressive first experience with the up-and-coming LXR brand at the Zemi Beach House in Anguilla, I couldn't wait to check out another one of the label's properties.
The Oceana was the first of three LXR hotels to open or be rebranded in the U.S., the others being Crockfords Las Vegas and the Hotel 1000 in Seattle. It underwent a massive renovation before joining the Hilton family and lured me in with the promise of stylish rooms, an on-site spa, a fine-dining restaurant and a rooftop lounge. Here's what it was like when I actually stayed there earlier this year.
For more TPG news delivered each morning to your inbox, sign up for our daily newsletter.
Booking
Rooms at the Oceana typically start around $750 per night, including taxes and a $45 daily resort fee. Meanwhile, standard room rewards consistently cost 95,000 Hilton Honors points per night. Those points equate to $570 per night based on TPG valuations, so you'd get good value from redeeming while also being exempt from the resort fee.
According to the hotel's website, the resort fee should include the following (though not all were available to me):
Wi-Fi.
Morning beach yoga.
Beach cruiser bike rentals.
Water and coffee.
Newspaper delivery.
In-room streaming/Bluetooth.
Welcome gift and beverage.
Use of the house car within a three-mile radius.
Personally, I think that all of these should be included in the price of entry without having an arbitrary fee tacked on, especially when you're paying $700+ per night for a standard room. Some more unique inclusions like access to a nearby beach club or at least beach chairs would make the fee a bit easier to swallow.
Although redeeming points will often be the better deal here, I ended up booking my two-night stay with cash. Why, you ask? I found a slightly lower rate with the same terms as Hilton through a third party so I was able to take advantage of its price-match guarantee. Hilton matched the lower rate and gave me an additional 25% off. I saved a couple of hundred dollars and all it took was a 10-minute call. I then maximized my return by paying with my cobranded Hilton credit card.
Sign up for our daily newsletter
Related: How 1 phone call saved me hundreds of dollars on a hotel stay
Location
The Oceana is located in a quiet yet central neighborhood in Santa Monica. It's a 10-minute walk to the Third Street Promenade, a pedestrian-only street full of shops and restaurants, and 20 minutes to the iconic Santa Monica Pier. Alternatively, you can have the complimentary house car drop you off or grab one of the cruiser bikes available.
Although the hotel sits on Ocean Avenue and faces the Pacific, it isn't directly on the beach. To reach the beach, you need to cross the street, go down a ramp or stairs, walk across a bridge over Pacific Coast Highway and through a parking lot. Malibu is a 15-minute drive away, while other popular spots like Venice Beach and Beverly Hills are about 10 minutes and 20 minutes away, respectively.
1 of 3
(Photo by Benji Stawski/The Points Guy)
While there's the Santa Monica Airport, unless you're flying private, you'll likely fly into Los Angeles International Airport (LAX). The drive can be as short as 20 minutes but can also take much longer, depending on LA traffic.
Pro tip: If you're renting a car, skip the hotel's $55-per-night valet and park for free on the street (for example, on Montana Avenue). Just read the parking signs carefully, as some areas require a resident parking permit and not all spots allow overnight parking.
Check-in
From the outside, the hotel — almost completely covered in ivy — didn't look much different than its neighboring apartment buildings. In fact, it originally opened as an apartment-hotel and was even home to comic actor Stan Laurel (of Laurel and Hardy) in the 1950s. But once inside, the impression was immediately California chic, with ocean-inspired decor.
I arrived at the hotel at noon — three hours earlier than the standard check-in time — and was able to get into my room by 1 p.m.
The check-in experience, while efficient, didn't feel up to par with the LXR brand. The associate acknowledged my Hilton Diamond status and confirmed an upgrade to an oceanfront room, but did not provide any information about what was included in the $45-per-night resort fee or any of the amenities available on-site. I also wasn't offered the "welcome gift and beverage" advertised on the hotel's website.
1 of 2
(Photo by Benji Stawski/The Points Guy)
Seaside Oceanfront Suite
Although I didn't actually end up staying in it (more on that in a moment), I was originally upgraded to a "Seaside Oceanfront One Bedroom Suite."
On paper, this sounded great. A five-category upgrade to a room that was going for about $300 more per night? Yes, please! However, my excitement quickly evaporated when I found out this was basically just a standard room with an ocean view.
I was assigned room 204, at the corner of the second floor. Although many rooms had spiffy entrances with French doors with fun wooden swings out front, mine, unfortunately, did not.
1 of 2
(Photo by Benji Stawski/The Points Guy)
The room itself was beautiful, with a modern, sophisticated design. I was a big fan of the bold wallpaper with a rippling pattern — offset by the metallic ceiling with geometric paneling — and appreciated the subtle nautical touches throughout. The four-poster California king bed was extremely comfortable and there were easily accessible power outlets on either side. Interestingly, though, there was no clock.
1 of 4
(Photo by Benji Stawski/The Points Guy)
I couldn't shake the impression that it felt very disingenuous for the hotel to call this a suite as it was the exact same size as the standard rooms — 500 square feet.
Although the hotel added "one bedroom" to the name, there was no separate bedroom from the living room. There wasn't even a desk to work at or table to eat at, despite the room's description mentioning a "living room and dining area" on the hotel's website. The hotel's website also mentioned a walk-in closet, which was definitely a stretch, as well as an in-room library, which was nothing more than a couple of coffee table books. There was no in-room coffee maker, either.
1 of 3
(Photo by Benji Stawski/The Points Guy)
The bathroom was well-lit and had beautiful marble tiling, and the toiletries were by Bottega Veneta — so no complaints there.
1 of 3
(Photo by Benji Stawski/The Points Guy)
Now, for the biggest selling point of the suite: the view. Was it worth the price premium the hotel normally charges? You decide.
Sure, the room was directly facing the water … but with a public bathroom and a busy street in between, the pedestrians walking on the sidewalk had a better view of the inside of my room than I had of the ocean.
Don't get me wrong, it was a good room overall. It would have been really nice for a standard room. But an oceanfront "One Bedroom Suite"? That didn't feel right.
Ironically, the hotel had several categories of rooms below this one that were significantly bigger — some even with full kitchens. The difference was that they faced the neighboring buildings.
Signature Oceanfront Suite
After noticing there were larger suites available and voicing disappointment with the original room, I asked the front desk to move me to the next category up, a "Signature Oceanfront One Bedroom Suite" and they did.
The new room was located right next door to my first one — room number 203. This wasn't just any room, however. Room 203 was where Stan Laurel actually lived and hosted parties for Hollywood's A-list.
My jaw dropped when I walked in — it was everything I had expected from the original suite and more. Separate living and sleeping areas: check. Dining table: check. An actual in-room library: check. Measuring 850 square feet, it also offered the extra space I originally expected.
Related: How I landed a premium suite upgrade mid-way through my stay
1 of 5
(Photo by Benji Stawski/The Points Guy)
As with the original room, the decor was truly magnificent — there was a photo op at every turn. The minibar itself almost looked like a work of art, with outrageous prices to match — $8 for a bottle of Coke, $12 for M&Ms.
1 of 4
(Photo by Benji Stawski/The Points Guy)
Like the first room, the bedroom featured a plush California king bed dressed in Frette linens with a Loro Piana blanket. While I probably still wouldn't call it a walk-in, the closet was also much bigger.
1 of 5
(Photo by Benji Stawski/The Points Guy)
The bedroom also featured a balcony, which was a nice addition, though it had the same so-so view. Street noise wasn't an issue for me, but I could hear the guests in the room above me at night.
1 of 3
(Photo by Benji Stawski/The Points Guy)
The bathroom was also similar to the first room, with two differences: There was a bathtub and it had just one sink instead of two.
1 of 3
(Photo by Benji Stawski/The Points Guy)
Amenities
The centerpiece of the hotel was its pool. It is heated year-round, which I appreciated during my winter stay.
1 of 3
(Photo by Benji Stawski/The Points Guy)
The pool chairs were comfortable and the towels were fluffy. There were also some sofas around a fire pit, along with tables and chairs, but oddly, no poolside service — or at least it wasn't offered.
1 of 3
(Photo by Benji Stawski/The Points Guy)
Just off the pool deck was the gym. It was small but well-equipped with a Peloton bike and two Peloton treadmills. There was also a small spa next to the gym that consisted of one treatment room.
I inquired about the beach yoga that was supposed to be included with my resort fee but learned it was not taking place during my stay.
1 of 4
(Photo by Benji Stawski/The Points Guy)
Wi-Fi was included throughout the property and in the guest rooms, and it was consistently fast. Download speeds measured 59.68 Mbps, and upload speeds measured 58.81 Mbps.
Food and drink
The hotel offered two food and beverage outlets — an all-day restaurant on the ground floor and a rooftop lounge open in the evenings on weekends (weather permitting). Both are open only to hotel guests, making them a bit exclusive in a way, but in reality, it's because of zoning ordinances that prevent the hotel from serving non-guests.
Unfortunately, non-guests aren't missing out on much. The main restaurant was beautiful and the waitstaff was attentive, but the food left much to be desired.
1 of 2
(Photo by Benji Stawski/The Points Guy)
I had lunch here shortly after checking in and was underwhelmed. The pizza was bland, the branzino tacos tasted very fishy and the cocktails seemed watered down.
Everything was also shockingly overpriced — $28 for the pizza, $32 for the two tacos and $22 per cocktail. A 20% gratuity was automatically added, along with a 5% surcharge to help pay for employees' healthcare. Needless to say, my $25-per-guest daily food and beverage credit through my Hilton status didn't get me very far.
Breakfast was better, but still not worth writing home about. Per the server's recommendation, my companion and I tried the chilaquiles redondo ($29) and frittata di funghi with black truffle zest ($30).
While I didn't have a chance to try it, the rooftop lounge definitely seemed like it could be a nice place to have a drink or two. There were also light bites on offer, such as a cheese board ($26), sliders ($32) and truffle fries ($18).
1 of 3
(Photo by Benji Stawski/The Points Guy)
The hotel also offered 24-hour room service. My French toast was tasty, but felt steep at about $45, including tax, tip, healthcare surcharge and a delivery fee.
Although there was no coffee maker in the room, complimentary hot coffee and tea were available in the morning by the front desk.
Service
The biggest disappointment with my stay was the service. While it would have been fine for the average hotel, this wasn't the average hotel — or at least it wasn't supposed to be.
Nothing about it felt particularly luxurious. For instance, I was never addressed by name when interacting with the front desk and turndown service wasn't automatically provided. I also never received either the welcome gift and beverage that was supposed to be included in the resort fee or a welcome amenity for being a top-tier Hilton elite. There was no one taking food and drink orders at the pool, and room service trays sat in the hallway for hours. When checking out, I noticed an incorrect $40 minibar charge, but the staff was quick to take it off my bill.
1 of 4
(Photo by Benji Stawski/The Points Guy)
Accessibility
The hotel's website has a dedicated page for accessibility and states that it is committed to offering a "welcoming experience to all guests." The hotel is ADA compliant and lists on its website how that's achieved, including offering access to common areas via self-operating lifts or sloped entryways; 32-inch-wide openings to common areas; access to the pool with a lift available upon request; mobility accessible rooms; communication features like visual notification for the hotel alarm system, door, and phone; and Braille signage. The attention to detail on the website when listing out the various features is impressive, allowing those with disabilities to know what they will find if they stay in this hotel.
Overall impression
I'm a fan of the LXR brand as a whole. The hotels are stylish, are in alluring locations and have a boutique-like feel that's far from your typical Hilton. But what ultimately sets the brand apart is the soft product, and unfortunately, my experience at the Oceana fell short of LXR standards.
While the rooms were pretty, the service was lacking for a luxury hotel and the food was subpar. Deceiving room descriptions and hidden surcharges also left a bad taste in my mouth. It would have felt much more appropriate for this hotel to be branded as a lower tier, yet still upscale Curio Collection property and priced accordingly.