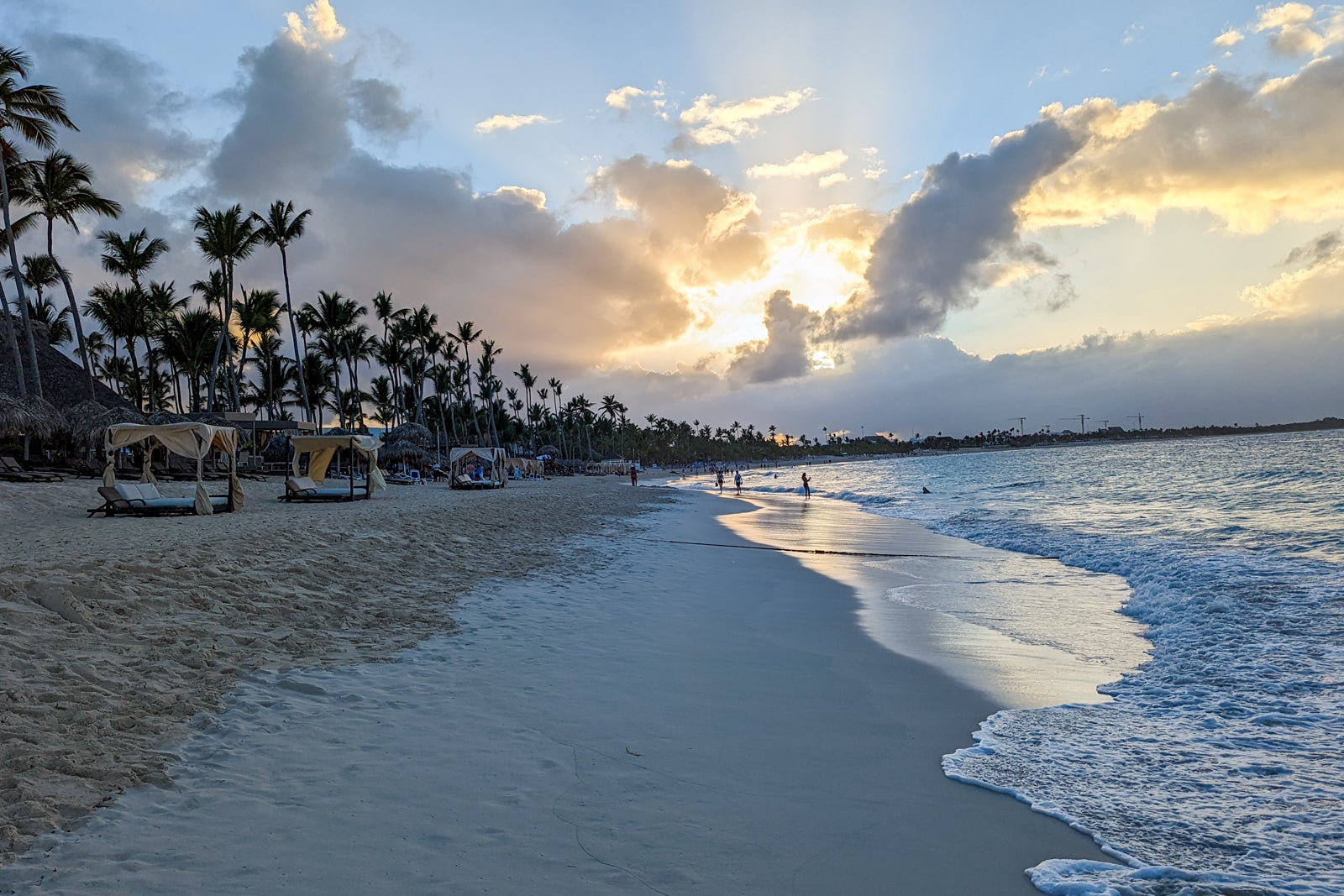 7 things to know before booking a stay at the Royalton Punta Cana All-Inclusive Resort & Casino
The Royalton Punta Cana All-Inclusive Resort & Casino is an Autograph Collection property in the Dominican Republic. As one of five all-inclusive Marriott options there, including the nearby TPG-reviewed Royalton Chic, is the Royalton Punta Cana the best choice for your next stay?
It's a massive property for the whole family with plenty of activities, action and dining options. Here are seven things you should know before booking a stay.
---
Ready to book or just looking? Take our one-question survey.
---
Cost
Room rates for a double room range from $195 to $300 per night, putting it at the lower end of the area's all-inclusive options. You get a lot for your money with accommodation, some activities, entertainment and food and drinks, including basic wines, beer, and cocktails, all included.
The property participates in Marriott Bonvoy, though my Gold Elite status was not acknowledged. With Bonvoy's recent switch to dynamic pricing, you can expect to pay between 50,000 and 62,000 points per night.
The resort also houses the Hideaway at Royalton Punta Cana, an adults-only section of the main resort, as well as the Diamond Club, which promises a higher standard of accommodation and facilities. Both options are more expensive than the standard Royalton Punta Cana and according to fellow guests, it's not worth the premium. While there were plenty of upsell opportunities for special private dining options, local tours and romantic beach experiences, I did not opt for these and did not feel I was missing out on anything.
Pros
1 of 5
(Photo by Ben Smithson/The Points Guy)
Guests can visit a brilliant water park at the sister property Royalton Splash next door.
The resort's beach featured the beautiful, soft white sand and clear blue water the Caribbean is world-famous for.
An enormous and surprisingly high-quality breakfast buffet with a vast range of local and international cuisine.
Room service was quick and easy to order through the in-room television.
Cons
1 of 5
(Photo by Ben Smithson/The Points Guy)
Waves of guests constantly coming and going did not make for a relaxing atmosphere.
Having multiple different resorts in one space meant confusing access rules and exclusions.
It was frustratingly impossible to secure a booking at the recommended teppanyaki restaurant.
The COVID-19 testing system to return to the United States was painfully inefficient and wasted plenty of valuable vacation time.
Possibly the worst Italian meal I have ever eaten in all my travels.
Vibe: Everyone welcome
It was a party for young and old at Royalton Punta Cana with plenty of action for every demographic. Children enjoyed splashing around the numerous swimming pools, while adults on spring break popped bottles and blasted music in private cabanas on the crowded beach. With activities ranging from morning aqua aerobics to evening line dancing and even fire-breathing, all set to electronic music, this is not a property to lose yourself in a book.
The poolside bars were packed from the moment they opened at 10 a.m. each day. Shockingly, there were no issues, considering the organized chaos, between partying adults and playful children — just everyone having a good time in the sunshine.
A white party for all guests right on the beach was a fun way to bring everyone together and celebrate some local culture that was otherwise in short supply.
Sign up for our daily newsletter
1 of 2
(Photo by Ben Smithson/The Points Guy)
Room
Despite glossy website images suggesting luxurious and modern accommodations, my room was comfortable but tired and scuffed. There was virtually no local flair in the design; I could have been at an airport hotel in Florida and I doubt I would have noticed the difference.
1 of 7
(Photo by Ben Smithson/The Points Guy)
The room featured an open terrace facing the back of the property. It didn't have much privacy, though the lack of view meant it was quiet and peaceful — a nice respite from the constant chaos of the common areas in the resort.
The only all-inclusive feature of the room was a sparsely filled, complimentary minibar with some local beers and sodas. The fridge was not cold so it was better to grab a beer at one of the resort's bars, which defeated the purpose of the in-room amenity. The 24-hour room service menu was easy to order through the television and arrived with a smile 20 minutes later.
1 of 2
(Photo by Ben Smithson/The Points Guy)
Dining and drinking
There were so many dining and drinking options at a property this size that I didn't manage to visit all of them during my two-night stay.
The resort's main Gourmet Marche breakfast buffet was excellent, offering a massive range of Dominican and international options from never-ending food stations. I am wary of the quality of mass-produced food like this but everything I ate was great. I especially enjoyed the live cooking stations serving brightly colored Mexican breakfast tostadas that tasted as good as they looked.
1 of 6
(Photo by Ben Smithson/The Points Guy)
It was always easy to get a drink from the various bars dotting the property, especially when I moved away from the busy main pool bar. The quieter, open-air bar near the Jade Asian restaurant served cocktails within two minutes of ordering; the frozen daiquiri with Brugal brand rum was high on sweetness and low on presentation but otherwise decent, and I was impressed by the Jose Cuervo margarita.
1 of 2
(Photo by Ben Smithson/The Points Guy)
At check-in, I was encouraged to try the resort's Zen teppanyaki restaurant but found it near impossible to book, as the booking desk closed just as check-in started and the restaurant was fully booked when I returned as the desk opened the following morning. I wish the check-in agent had been honest about the likelihood of securing a booking as it would have saved me a lot of time.
Dinner at the resort's Grazie Italian Trattoria was a disaster from start to finish. I laughed out loud when my Caprese salad appetizer was brought to the table. This iconic Italian dish appeared to have been reimagined by a child, for a child. The lasagne entree that followed had cold, burnt edges with an uneven temperature filling suggesting it had been thrown in a microwave on the way to the table.
Dinner at Hunter Steakhouse the next evening was a much more satisfactory affair, with a generously sized, evenly cooked mixed grill of chicken, sausage, steak and ribs, served with creamed spinach and hot and crispy fries.
The next day my room service club sandwich and fruit salad were also decent and ordered with ease through my television.
1 of 6
(Photo by Ben Smithson/The Points Guy)
Activities
There's a small casino on-site beneath reception offering a handful of gaudy slot machines and poker tables — but don't expect any James Bond-style glamor.
There were enough lounge chairs surrounding the multiple pools that you don't need to be up at the crack of dawn to claim one. However, there were simply too many chaotically arranged beds and cabanas in the relatively small beach for the area to be relaxing.
Guests can enjoy a good-quality gym on the property to work off all those buffet meals and cocktails, and there are plenty of retail outlets selling resort attire, duty-free spirits and cigars.
1 of 3
(Photo by Ben Smithson/The Points Guy)
My favorite part of the entire stay was the Royalton Splash waterpark next door that guests from Royalton Punta Cana can enjoy. It's an easy five-minute walk from the Royalton Punta Cana lobby or a shuttle is available if you don't fancy walking. I love a good water park and this was small but very fun, with no queues for any rides. Alcohol is not served at the waterpark, which may be why it was such a quiet and relaxing atmosphere.
1 of 3
BEN SMITHSON/THE POINTS GUY
One particular pain point was the antigen testing process to return to the United States. I waited for 45 minutes just to make an appointment for a test — time wasted that could have been spent by the pool or the beach. The test itself only required about 20 minutes of my time, but I wish I had brought a test I could do by video instead of wasting so much time with the resort's process.
Recommendation
It's a party for the whole family at the enormous Royalton Punta Cana All-Inclusive Resort & Casino with plenty of action from dawn until well after dark. You do get a lot for your money here, especially if you're not fussy about consistently high-quality food or efficient service.
For me, the lack of relaxation and difficulty escaping the "always-on" energy was certainly not my cup of tea and I would rather find somewhere smaller, more authentic, and more relaxing for my next beach holiday. However, if you're looking for non-stop entertainment and don't mind sacrificing relaxation and luxury, it's a good value all-inclusive option in the Caribbean.