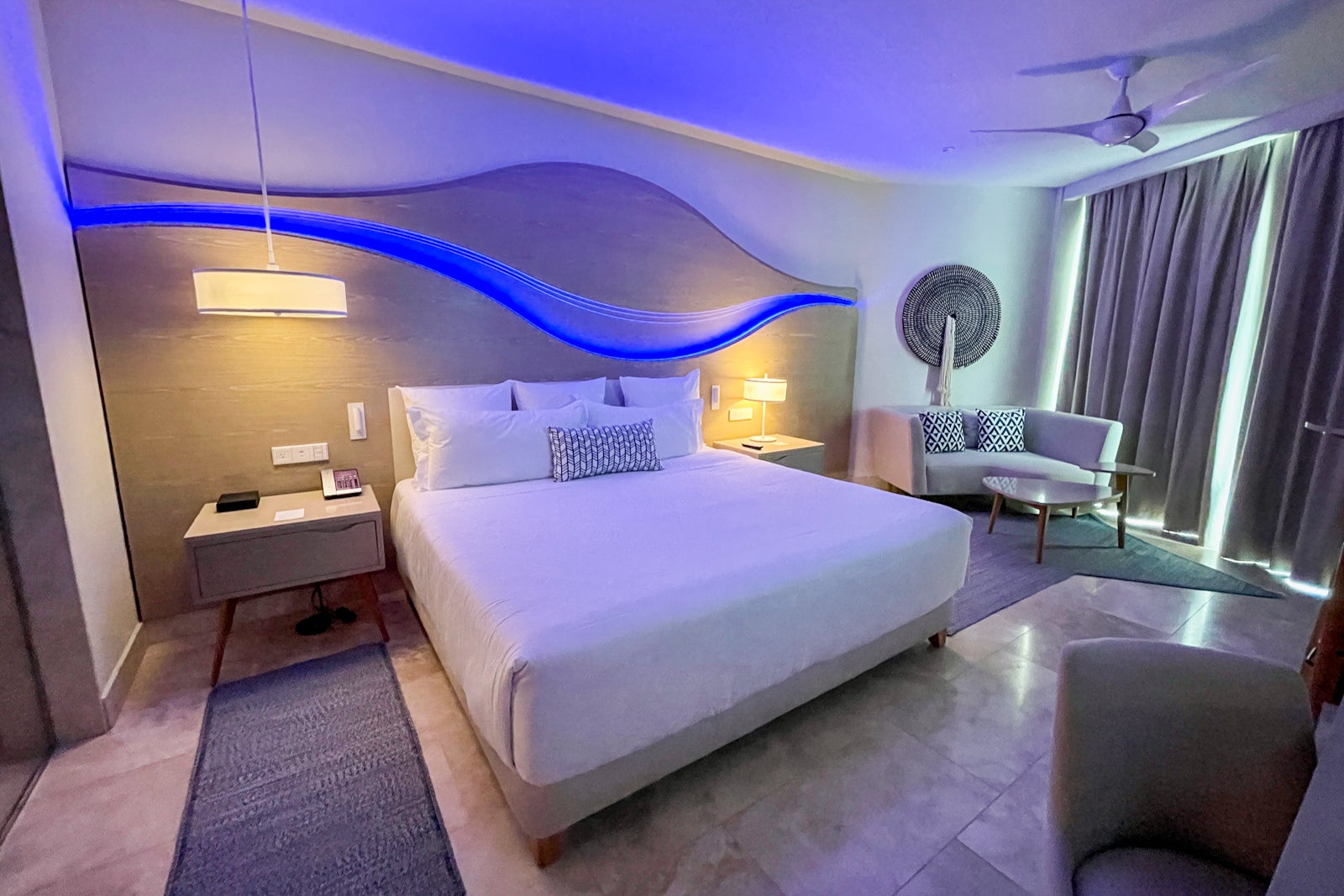 7 things to know before booking a stay at the Breathless Cancun Soul Resort & Spa
World of Hyatt is expanding its all-inclusive footprint dramatically through the addition of the AMR Collection portfolio. You can now earn and redeem points on stays at more than 50 new resorts in the Americas, with even more properties to be integrated in the coming months.
Each of the AMR Collection's brands has a theme: Secrets is synonymous with romance, Zoetry with wellness and Dreams is family-friendly. And then there's Breathless, the adults-only party brand that features mood-lit rooms and DJ-driven pool parties.
Fittingly, there are not one but two Breathless properties in the Mexican party capital of Cancun. Here are seven things you should know about one of the pair, Breathless Cancun Soul, based on a recent visit.
For more TPG news delivered each morning to your inbox, sign up for our daily newsletter.
Cost
You can expect to pay around $400 to $450 per night for a double-occupancy room at this all-inclusive resort. It's neither the cheapest nor most expensive option in the area, but in line with what similar hotels in the area are charging. For about $175 more per night, you can book an "Xhale-level" room, which gets you access to an exclusive lounge, upgraded minibar and access to an exclusive rooftop pool.
If you're looking to redeem your World of Hyatt points, you'll need to shell out 21,000, 25,000 or 29,000 points per night, depending on the date. That's again based on double occupancy, with additional guests costing 10,500 to 14,500 points per night.
Pros
1 of 5
(Photo by Benji Stawski/The Points Guy)
The hotel just opened in December 2021 so it was modern and still had the new-hotel smell.
There was plenty of seating available at the pools and the beach.
The entertainment was excellent … if you came to party. There were DJs spinning throughout the day and night, often accompanied by go-go dancers.
There were lots of activities, ranging from fitness classes to Spanish lessons, non-motorized water sports and more.
The beach featured soft white sand and calm, clear, shallow waters.
It has a convenient location if you plan to explore Cancun's nightlife scene.
Cons
1 of 3
(Photo by Benji Stawski/The Points Guy)
It was hard to escape the noise. There was loud music blaring in the lobby, elevators and at the pools. Thumping bass music could still be heard from my room's balcony and the spa's outdoor relaxation areas.
The beach was not private and was often crowded with locals.
Check-in agents weren't fully briefed on World of Hyatt benefits yet and tried to upsell me on a room upgrade and various add-ons like a romantic dining experience, even though I was traveling alone.
None of the restaurants take reservations, and the wait to get a table for dinner could sometimes be over 30 minutes at more popular restaurants like Silk City.
Vibe: Party scene
1 of 5
(Photo by Benji Stawski/The Points Guy)
During check-in, I was handed a glass of sparkling wine in one hand and the hotel's drug use policy in the other, giving me a good sense of the vibe of the hotel.
The Breathless Cancun Soul is a party hotel. Think South Beach or Las Vegas spring break, but with a predominantly Gen X crowd. Guests in string bikinis stomping around in high heels? Totally normal. Dress codes for restaurants: Check. Quiet afternoon reading a book by the pool? Forget it.
The xcelerate pool got quite rowdy, with DJ-led pool parties and bottle service (for an additional charge). There were drunk — and very social — vacationers and loud music throughout the property. With LED-lit, infinity-mirrored elevators and mood-lit rooms, it was clear that the hotel was trying extremely hard to be cool and edgy. Relaxation was not top of mind for this hotel.
Sign up for our daily newsletter
Room
The hotel was split into two connecting towers: the skyline tower and the xcelerate tower. I was assigned a partial ocean view in the quieter skyline tower. My room was technically on the 12th floor, but it felt a bit misleading to call it that since it was just two levels above the second-floor lobby. It seemed like the hotel was trying to make all floors sound like "high floors."
Entry-level rooms at this hotel are called junior suites and they're decently spacious, starting at 480 square feet. My room had a king bed, a small living area with a sofa, a high-top bar table, a desk area and a furnished balcony.
1 of 7
(Photo by Benji Stawski/The Points Guy)
There were no walls separating the bathroom from the bedroom — just a glass-walled, walk-in shower — though there was an electric shade that could be lowered for partial privacy.
1 of 2
(Photo by Benji Stawski/The Points Guy)
While there was no bathtub, the bathroom felt romantic with double vanities, built-in speakers, two rainfall showerheads, as well as a bench in the shower. Toiletries were by Gilchrist & Soames but with Breathless branding and there was an incense stick that guests could light.
1 of 3
(Photo by Benji Stawski/The Points Guy)
The king bed was perfectly comfortable though nothing special. As expected from a new hotel, there were power outlets and USB ports on either side of the bed, as well as built-in reading lights.
1 of 2
(Photo by Benji Stawski/The Points Guy)
At first glance, nothing seemed out of the ordinary about the wave-shaped headboard, but it turned out to provide mood lighting for the room. Fittingly, there was a party mode where the lights quickly faded from one color to the next and a romantic mode where the lights dimmed and turned to a soft pink.
The complimentary minibar included a Nespresso machine, various soft drinks and Corona beer but no hard liquor or snacks.
1 of 3
(Photo by Benji Stawski/The Points Guy)
Dining and drinking
There were a total of 10 dining venues on site, including six a la carte restaurants, a buffet, two poolside grills and a 24-hour coffee shop. All were covered by the property's all-inclusive rate and none required reservations, though not all were open every day. Dress codes were enforced at restaurants and ranged from casual (i.e. shorts, T-shirts and tennis shoes) to formal (i.e. long pants, dress shirts and dress shoes).
1 of 9
(Photo by Benji Stawski/The Points Guy)
The cuisine of the a la carte restaurants ranged from seafood to Mexican to Middle Eastern, Pan-Asian, French and Italian. Guests I spoke to raved about the Middle Eastern restaurant Kibbeh but, unfortunately, it wasn't open during my stay.
Overall, the food was about average for an all-inclusive resort. With the exception of a funky hibiscus flower tostada, the food tasted fine, but I also wasn't blown away. As is often the case at all-inclusives, it felt like the resort was a bit stingy with certain ingredients. For instance, the sushi was heavy on rice and vegetables, it was sometimes difficult to get fresh guacamole and there were no fresh fruit smoothies available.
1 of 5
(Photo by Benji Stawski/The Points Guy)
My most memorable meal was dinner at Silk City, a nightclub-inspired Asian restaurant located on the rooftop level of the skyline tower. The menu was large, with options ranging from gyoza to sushi, Pad Thai, fried rice and more. There were two teppanyaki tables for those who wanted a more interactive dining experience. The night I dined here, there was also a live DJ and dancers, giving the restaurant more of a trendy Miami restaurant vibe than a Mexican beach resort. As mentioned, the sushi was a bit light on the fish — it wasn't the best but also not the worst I've had.
1 of 4
(Photo by Benji Stawski/The Points Guy)
I enjoyed the breakfast buffet each morning. It had everything you could possibly want, including made-to-order omelets, French toast, pancakes and waffles, Mexican specialties, tropical fruits, cold cuts and more.
1 of 8
(Photo by Benji Stawski/The Points Guy)
Alcohol was available at the bars from 7 a.m. to 11 p.m., and at the hotel's nightclub from 11 p.m. to 3 a.m. Liquor brands included Belvedere, Absolut, Johnnie Walker Red and Black Label and Jose Cuervo. Some cocktails tasted watered down, but my strawberry daiquiri was delicious — not too sweet and not too sour. There was also bottle service available at the pools and nightclub.
1 of 7
(Photo by Benji Stawski/The Points Guy)
Guests staying in xhale-level rooms had access to a special lounge with light bites and a bar, though the selection didn't appear any different than the standard bars.
1 of 3
(Photo by Benji Stawski/The Points Guy)
Finally, there was 24-hour room service available at no extra cost. My order of french fries arrived in about 45 minutes and I appreciated the ability to place my order through the hotel's mobile app.
Activities
The resort offered three main pools. There was the large energy pool on the ground floor, the xcelerate rooftop party pool and the xhale rooftop infinity pool. The xhale pool was technically reserved for xhale-level guests but, based on my experiences, anyone could enter.
1 of 8
(Photo by Benji Stawski/The Points Guy)
All of the pools were very warm, which some will like while others won't. Luckily, there were lounge chairs always available, regardless of the time of day. Cabanas were available for rent at the xcelerate pool.
1 of 5
(Photo by Benji Stawski/The Points Guy)
Guests had access to an additional pool at the spa. However, it didn't get much sunlight and didn't seem very relaxing, as you could still hear the thumping bass music from the other pools.
1 of 2
(Photo by Benji Stawski/The Points Guy)
The beach attached to the hotel was public, but still very clean and not overrun with seaweed. There were chairs and cabanas for hotel guests, as well as complimentary activities like beach volleyball, kayaks and catamarans.
1 of 5
(Photo by Benji Stawski/The Points Guy)
No matter the time of day, there was some form of entertainment. This included DJ-led pool parties, evening parties on the xhale rooftop, evening shows, beach volleyball tournaments and bingo.
1 of 3
(Photo by Benji Stawski/The Points Guy)
In case you had any energy left, you could dance the night away at the hotel's nightclub. I went one night — for research purposes, of course — but didn't stay very long as it was a mostly older crowd than me.
The hotel also had a relatively small, but adequately equipped gym that was open 24 hours a day. Classes such as yoga, Zumba and water aerobics were offered during the day.
1 of 3
(Photo by Benji Stawski/The Points Guy)
Recommendation
The Breathless Cancun Soul targets a very specific type of traveler — the partygoer. If you're in town to celebrate a birthday or bachelorette party, this resort could be great for you. In addition to nonstop entertainment, you'll enjoy modern rooms, solid food and free-flowing drinks. But if you're hoping to get some peace and quiet or have an authentic Mexican experience, stay elsewhere.