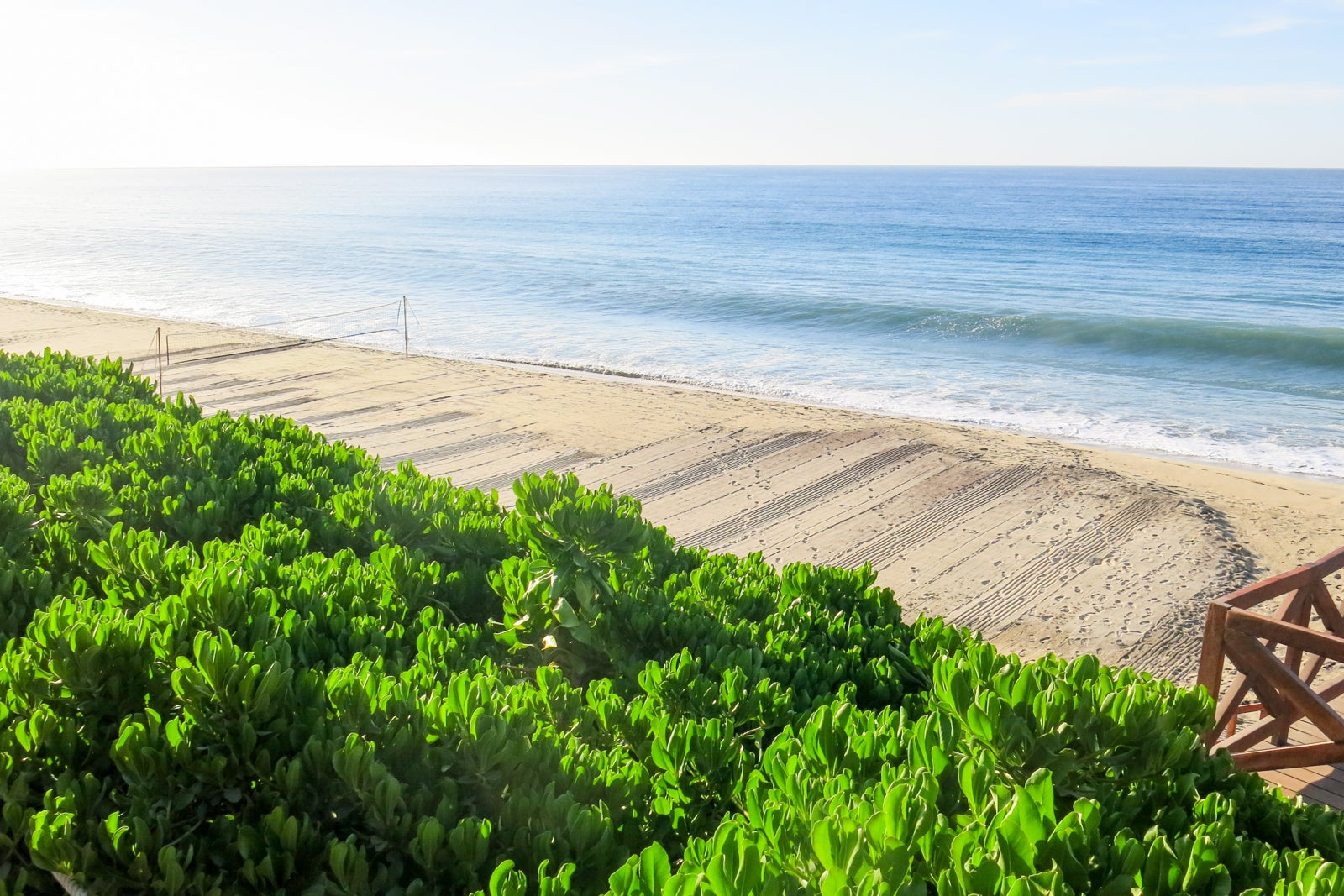 7 things to know before booking a stay at Secrets Puerto Los Cabos Golf & Spa Resort
Secrets Puerto Los Cabos Golf & Spa Resort is an adults-only, all-inclusive resort located about 30 minutes south of Los Cabos International Airport (SJD) in Puerto Los Cabos, Mexico. Part of AMResorts, Secrets' portfolio of 22 resorts can be found in destinations like Costa Rica, the Dominican Republic, St. Martin, Jamaica and Spain, though more than half of the brand's properties — including this one — are located in Mexico.
Situated away from the hustle and bustle of Cabo San Lucas, Secrets Puerto Los Cabos offers a quieter take on the all-inclusive getaway, making it ideal for relaxation-seeking adults — with a few caveats. Here's what my experience at this adults-only, all-inclusive property was like.
---
Ready to book or just looking? Take our one-question survey.
---
Cost
Because this property is part of AMResorts, which recently joined the Hyatt portfolio of properties, members of the World of Hyatt program can enjoy elite perks and earnings every time they stay here. I decided to use cash to book two nights in a standard Junior Suite Garden View accommodation, which cost me $490 per night for single occupancy. Had I been traveling with my husband or a friend, I would have spent about $100 more per night for double occupancy.
If you frequently visit Hyatt properties, you can use World of Hyatt points to book a suite instead of paying with cash. Depending on when you plan on visiting, you'll need anywhere from 21,000 to 29,000 World of Hyatt points to cover one night at this Secrets outpost, whether you're staying as a solo traveler or with a companion.
Like other Secrets resorts, room rates here cover all meals, drinks and most activities, including tequila tastings, cooking classes and themed parties. Know, though, that tee times at the adjacent golf course, marina bike tours and spa services cost extra.
For an upgraded experience, you can pay a little more to reserve a Preferred Club suite. Costing between $800 and $2,900 per night, these suites come with additional perks like personal concierge services, upgraded minibar items and access to an exclusive pool and a private club that serves continental breakfast, hors d'oeuvres and more. The latter looked small and empty when I took a quick peek during my visit — the only guests inside were two people playing chess in a corner.
Related: How to get to Los Cabos on points and miles
Pros
The hotel was beautiful, so much so that I spent a lot of my stay walking around and enjoying the architecture and landscaping.
Room service was quick, and I loved having the ability to order via an in-room tablet.
Every hotel employee I interacted with was friendly, always greeting me by name whenever I saw them.
Cons
The cuisine left a lot to be desired, especially if you're looking to be wowed by both the presentation and taste of your food.
Strong tides at the resort's beach make it unsafe for swimming.
My door's lock became loose and inoperable at one point in a pretty suspicious way, making me feel uncomfortable toward the end of my stay.
Vibe: Adults-only
Given the resort's adults-only policy, it clearly caters to guests ages 18 and older, though in a way you may not expect. Rather than offering a lively party scene featuring pool parties and dozens of bars, Secrets Puerto Los Cabos provides a quiet atmosphere ideal for rest and relaxation, whether you're traveling on your own like me, with a partner or with several friends.
Sign up for our daily newsletter
My room was away from the main building, which I enjoyed since it meant there was enough distance between my suite and the resort's social events to keep noise to a minimum. However, even when I was walking to the pool and restaurants where most of the action — and I use this term loosely — could be found, the resort was still relatively quiet. There was a DJ at the pool, but the music wasn't excessively loud.
Related: 14 of TPG's favorite points hotels on the beach in Mexico
Room
Despite choosing a standard Junior Suite Garden View accommodation, which would have overlooked the resort grounds, I was upgraded to a third-floor suite with a partial ocean view upon arrival. It was spacious, at 560 square feet, and offered ample seating in the form of a love seat beside the king-size bed, a desk with a chair and outdoor furniture on the balcony.
The decor was simple and without flourishes. I appreciated that the suite wasn't overly bright but rather featured a mostly neutral color scheme (think: wooden furniture and white and beige hues) with occasional pops of red.
While the bed was very comfortable and the desk provided plenty of space for me to get some work done, the closet felt like a bit of an afterthought, especially in such a large space. It lacked room to accommodate more than one checked bag, and the doors took some effort to close. Still, I appreciated having an in-room tablet for ordering room service, viewing the spa menu and more. The minibar was a nice touch, too, though it was only filled with water, soda and a beer that I was not familiar with.
Like the bedroom, the bathroom felt spacious, offering ample room for a whirlpool bath, a separate shower and dual vanities. I was pleasantly surprised to find full-size toiletries like shampoo, conditioner and lotion, plus some unusual (but welcome) extras like hand sanitizer and sunscreen.
On the surface, the suite was more than adequate, though I soon found myself wishing I wasn't in a room at the end of a long hallway. While it was great for privacy, as a solo traveler, I didn't like being so removed from other guests, especially after noticing that my door was no longer locking. In fact, the lock and handle were almost falling off by the time I left for dinner the second night.
Although the front desk did fix the lock at my request, I started feeling a bit uneasy toward the end of my stay when random items were moved or replaced. For example, a coffee pod was swapped out and my phone charger switched nightstands, but the rest of the suite was otherwise left untouched, giving me the impression that housekeeping hadn't been by to clean my room. These odd observations left me feeling uncomfortable and concerned someone was entering my suite without my permission, but because I was checking out the next morning, I chose to let the incidents go.
Related: 8 lessons I learned from my 1st all-inclusive vacation
Dining and drinking
Overall, I found the food at Secrets Puerto Los Cabos to be far from memorable and borderline disappointing, but I admittedly didn't have high expectations based on my prior experiences with dining at all-inclusive resorts.
There were a dozen restaurants and bars to choose from, including eateries serving Italian, Pan-Asian and Mexican fare.
For my first meal, I decided to be adventurous and order grilled octopus with a side of vegetables and shrimp ceviche from the poolside Seaside Grill shortly after arriving at the resort. The octopus was seasoned rather aggressively with cumin and paprika yet lacked salt, making it an odd combination of spicy and mild in flavor. Meanwhile, the shrimp ceviche was not the diced shrimp, cilantro and lime juice dish I was expecting. Instead, it featured whole shrimp covered in a salty and slightly spicy green sauce that was better than the octopus but also disappointing overall. Unhappy with these options, I swapped both out for a cheeseburger that was neither bad nor spectacular.
1 of 3
(Photo by Ashley Onadele/The Points Guy)
Breakfast at the Market Café was a far better experience. The buffet offered traditional American items like savory meats, fresh fruit, pancakes, waffles and pastries. Additionally, there was a station where you could order a fresh omelet.
1 of 3
(Photo by Ashley Onadele/The Points Guy)
I tried room service a couple of times during my stay as well but quickly realized it was just as lackluster as the Seaside Grill had been. My fettuccine Alfredo desperately needed salt, and the dessert I was sent had clearly been sitting in a refrigerator for a while, as it was far too cold to eat when it was delivered.
The drinks, however, were a different story. They were not only consistently tasty but also on par with what I'd expect to find when paying close to $500 a night for a room.
The frozen daiquiri I ordered first took about 10 minutes to arrive and leaned on the sweeter side rather than being too strong, which I found enjoyable. Because the resort doesn't have straws, I had to eat my drink with a spoon. However, I didn't mind this minor inconvenience.
I decided to change it up for my next drink since I felt silly ordering a daiquiri in Mexico, so I tried a margarita as well, which arrived almost immediately. Although it wasn't made with the añejo tequila I requested due to that spirit being reserved for Preferred Club guests only, I found my version made with reposado tequila to be incredibly refreshing and delicious.
Related: 5 things you should know before booking an all-inclusive resort stay with points
Activities
The resort's website touts activities like pool and beach volleyball, rifle shooting and archery tournaments, but I never came across those during my stay. The small activity building, which sits between the two pools by the beach, was never open when I tried to visit. This easily could have been because I was out at the wrong time of day, though.
Still, there were other ways to pass the time. A patch of grass offered lawn games, the pools provided plenty of places to lounge and a spa was available for treatments, though those cost extra.
As a guest, I received a $200 voucher to apply toward on-site activities or resort-organized excursions like horseback riding on the beach and zip lining during my stay. It was a perk I wasn't expecting and, unfortunately, was one I didn't get to take advantage of. I had hoped to use it at the spa to partially cover a treatment but the spa was booked up, so I did not end up using the voucher.
Related: 13 mistakes to avoid at all-inclusive resorts
Recommendation
I can see the appeal of Secrets Puerto Los Cabos, as it offers a relaxing setting ideal for lounging with a cocktail in paradise. However, its underwhelming cuisine, the subpar conditions at the beach and my security concerns with my suite were enough to dissuade me from returning. There are simply too many other accommodation options in and around Cabo San Lucas to choose from to warrant settling for an OK property.
That said, there were some highlights. Overall, the service was fantastic, and the property itself was beautiful, offering ample space to stretch out both in the suites and on the resort grounds. If you prefer good cocktails over great cuisine and would rather lounge by a pool than on a beach, odds are you'll enjoy staying at this resort.
Related: Why all-inclusive resorts are more attractive than ever following the pandemic