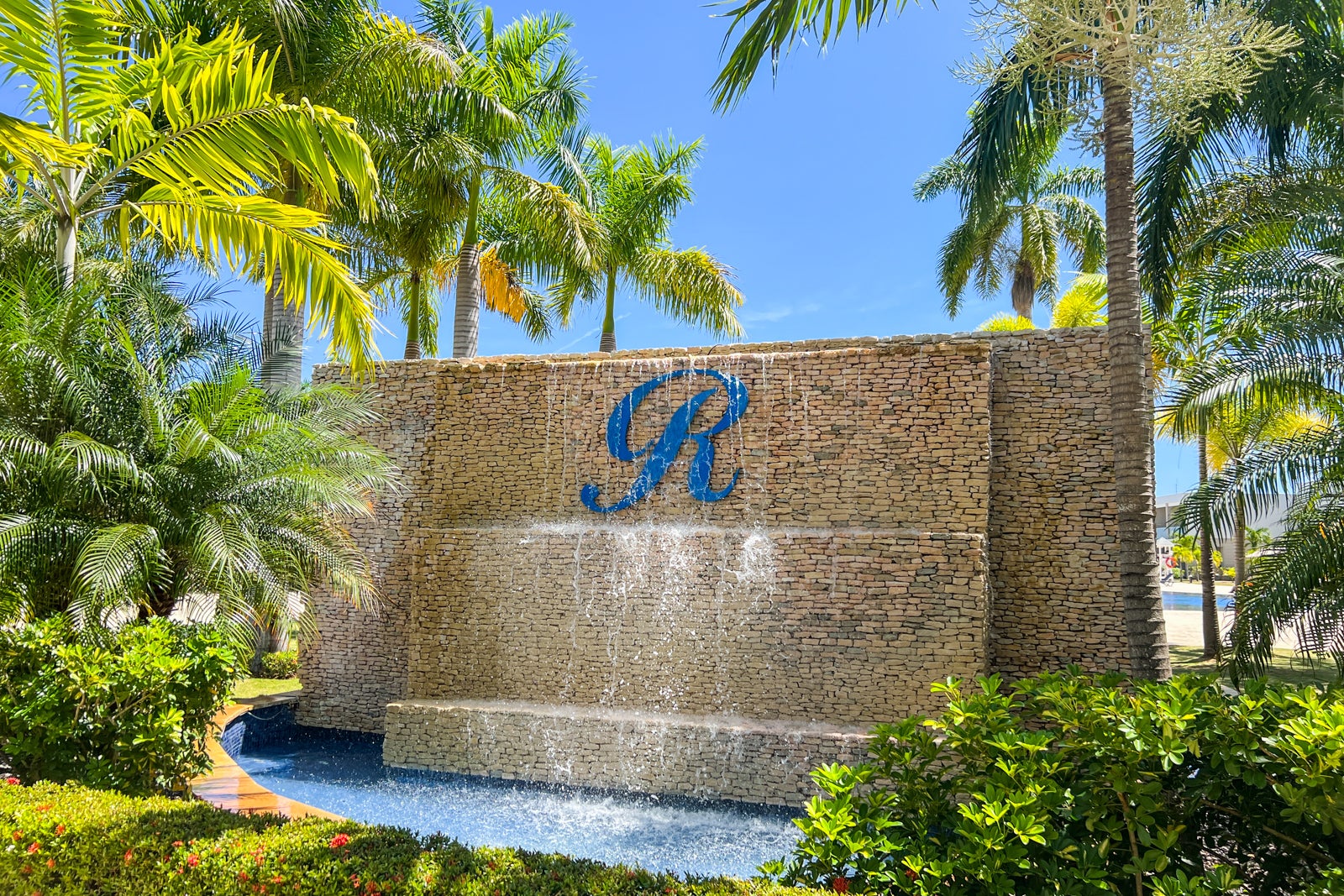 7 things to know before booking a stay at Royalton White Sands in Montego Bay
Royalton White Sands in Montego Bay, Jamaica, is a 352-room all-inclusive resort in Royalton Luxury Resorts' portfolio that shares amenities with the next-door Royalton Blue Waters.
In 2021, Royalton White Sands, along with a handful of other all-inclusive resorts, joined the Marriott Bonvoy program.
Royalton describes its resorts as being upscale, modern and all-inclusive, but does the White Sands live up to its billing? Here are seven things you need to know before booking a stay.
For more TPG news delivered each morning to your inbox, sign up for our daily newsletter.
Cost
Like at most all-inclusive resorts, room rates at the Royalton White Sands vary based on the number of guests in your party. Cash rates start around $250 per night for two adults and around $400 per night for a family of four. Because we were traveling as a family of five, we paid an additional fee of $20 per night to cover having three children in the room. Children under 2 stay for free.
Points pricing begins at around 50,000 Marriott Bonvoy points per night for two adults. Based on my fruitless search, Marriott does not allow points redemptions for anything other than two guests per room.
I did, however, hop onto the Amex Travel portal and found award availability for a family of four for around 57,000 American Express points per night. I wasn't overly impressed with the redemption rate, but if you are hoping to pay with points instead of cash, a credit card travel portal is really your only option.
Whether you pay using cash or points, your room rate includes unlimited meals, alcoholic and nonalcoholic beverages, daily activities and nightly entertainment. You can pay extra for photo packages, romantic dinners on the beach and drinks like Red Bull and Heineken if you can't get down with the included complimentary options.
You can also pay about an extra $50 or $60 per night for Diamond Club access, which includes an exclusive beach and pool area, preferred room locations, butler and turndown service and other perks.
Sign up for our daily newsletter
Pros
1 of 9
(Photo by Tarah Chieffi/The Points Guy)
Gorgeous grounds.
Large pool complex with a family pool, adults-only pool, waterslides, lazy river and a pirate-themed water park for kids.
Well-furnished beach areas with lots of seating and umbrellas for shade.
Complimentary nonmotorized water sports.
Diamond Club perks were well worth the additional cost.
Good Wi-Fi.
Wide variety of dining options, from sushi to local dishes.
Bracelets served as key cards so you don't have to worry about losing your keys.
Cons
1 of 3
(Photo by Tarah Chieffi/The Points Guy)
Rooms were run-down and some features were flat-out broken, like the rain shower and Jacuzzi tub.
Poor communication (and no resolution) about issues with room.
A bit too much of a party atmosphere for family travelers.
No resort guide or map given at check-in.
Persistent beach vendors unauthorized by the resort despite there being a designated space for them to sell from.
Vibe: Party scene
While there were certainly amenities and activities geared toward families, we encountered mostly couples and groups of friends on vacation. Aside from a few other families, we mostly had the water park to ourselves and when we visited the kids club for family bracelet-making, there were only four other kids there.
There were a few other context clues that made it easy to see this is a place where people come to party. A guest at the next table over at dinner on our first evening ordered a "Grey Goose and vodka" and the server spent the next few minutes trying to decipher what it was he actually wanted to order.
The next day there was a foam party in the adults-only pool at 2 p.m. with bartenders pouring shots directly into guests' mouths as bubbles filled the pool.
Related: Jamaican all-inclusive resort escape: We compared 3 Hilton, Hyatt and Marriott properties
I'm far from a pearl-clutcher and there was a time (redacted) years ago when I would have given the Royalton White Sands a glowing review as a place to party by the beach on a girls weekend. With three kids in tow, though, my days of lining up at the swim-up bar to have a bartender pour shots in my mouth are nothing but a distant (and somewhat fuzzy) memory.
Room
1 of 9
(Photo by Tarah Chieffi/The Points Guy)
We were in a family Jacuzzi suite that had a large main room with a king bed, a dresser with storage drawers, coffee maker and minibar and a double-size pull-out sofa (upholstered in a distracting red pleather); a kids room with bunk beds; one full bathroom; and a large furnished balcony with partial ocean views. Both the primary bedroom and the kids room had flat-screen TVs.
The bathroom was oddly long and narrow, but that did leave room for two closets and tons of storage space. The Jacuzzi tub that was advertised in the room's name was inoperable, as was the signature Royalton rain shower. We spoke with a very friendly guest services agent about the issues twice, but as far as we could tell, nobody ever visited our room to assess the issues.
Related: 7 things to know before booking a stay at Royalton Chic Punta Cana
I usually expect some degree of wear and tear at a beachfront hotel, but our room was pretty downtrodden. The balcony doors looked like someone had tried to break out (or in), the reading light on one side of the bed was broken and because the tub and shower weren't working, the only way to clean off was with the handheld shower head.
Dining and drinking
1 of 6
(Photo by Tarah Chieffi/The Points Guy)
The Royalton White Sands has a total of five restaurants, six bars and one cafe on site. Only one, the Zen Teppanyaki & Sushi Bar, requires reservations. The others are first-come, first-served and we were seated immediately at each restaurant we visited.
We ate breakfast and lunch at the buffet, which was open daily for breakfast, lunch and dinner. There was plenty of indoor and outdoor seating and a huge selection of items to choose from. My husband and I were able to get a bit of local flavor while the kids could please their less-adventurous palates with burgers, cereal, pastries and fruit.
Both the Tex-Mex and West Indies restaurants were delicious. Entree portion sizes are generous, but don't expect to share the starters or desserts. The portions are tiny, but the dishes were all artfully plated. I had the coconut fried fish at Calypso, the West Indies restaurant, and it was well cooked with lots of coconut flavor. I am a huge fan of plantains, so I was happy to find a few served on the side.
We also loved the beachfront Jerk Hut and unlimited iced coffee (for me) and ice cream (for the kids) from the cafe.
There were lots of original cocktail options at the bars, but the bartenders were happy to make a standard margarita or mojito, as well. There were even some fun mocktails for the kids when they got jealous of our colorful drinks.
Activities
1 of 4
(Photo by Tarah Chieffi/The Points Guy)
During our stay, there were activities throughout the day. In addition to the adults-only foam party, there had been a foam party for kids and parents in the family pool.
Related: 7 things to know before booking a stay at the Royalton Punta Cana All-Inclusive Resort & Casino
The kids club was open from morning until late afternoon, and we stopped by for a family bracelet-making activity so we could have handmade souvenirs to bring home with us.
There was also trivia, a volleyball tournament and nightly entertainment with dancing and music. The activities team seemed like they were having more fun than the guests!
My 5-year-old and I borrowed a kayak from the water sports hut and explored the clear, blue waters for about 30 minutes. I was excited to find that the sanctioned area where paddleboards and kayaks were allowed was quite large.
Recommendation
Of Royalton's claim to being upscale, modern and all-inclusive, only the last of those rang true. The facade of luxury that I felt when stepping into the well-decorated lobby faded away once I entered our suite, but I was impressed by the range of food, drinks and activities that were included with our stay.
If it's luxury you seek, I'd look elsewhere. If you plan on doing more partying than staying in your room, your beer goggles may cloud the issues with the accommodations enough that you'll go home with nothing but amazing vacation memories (and maybe a hangover).