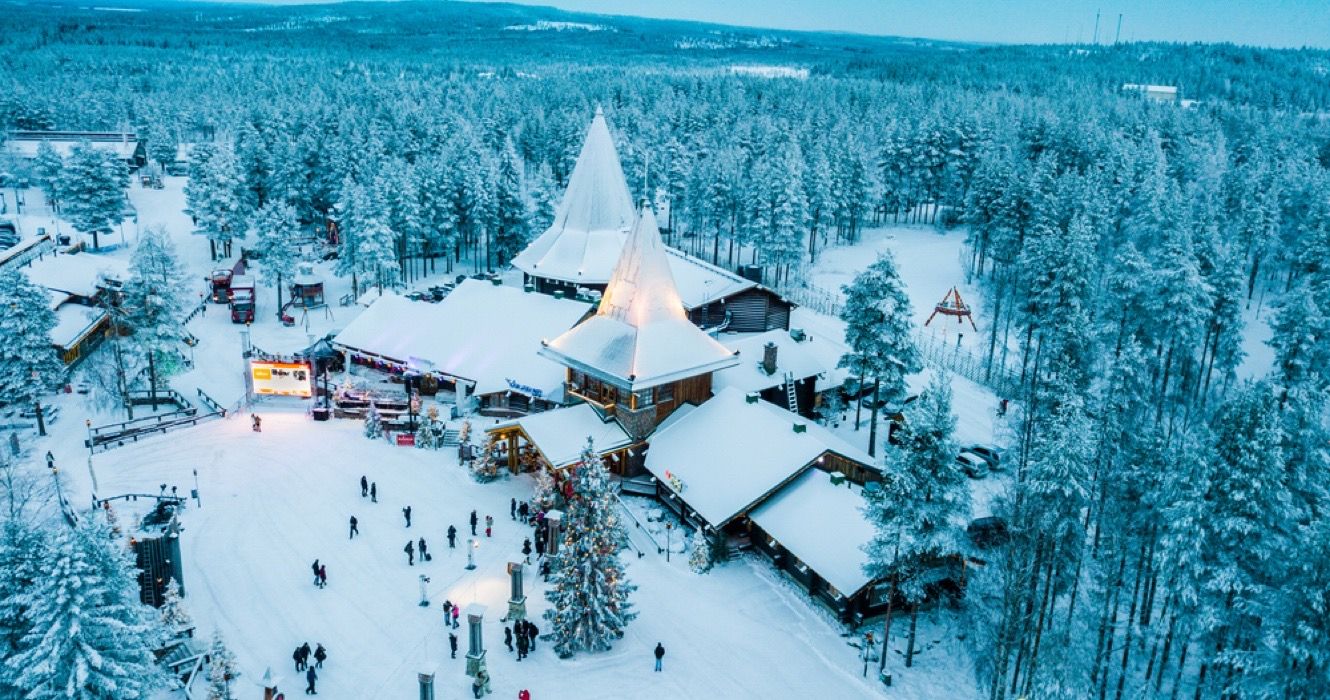 10 Beautiful Winter Vacations In Europe You Should Be Taking
In Europe, winter can take numerous forms. In the polar north, there is a lot of snow and long periods of darkness. Long-lasting sunshine can be found near the temperate Mediterranean late into the season. In the heart of Europe, there is a warm café scene and festively decorated buildings.
Grand cities and picturesque villages can be visited at a time that inspires tourists, when there are fewer crowds and lodging costs are lower due to the off-season in winter. By traveling by rail throughout Europe, tourists may discover new places at their own pace and interact with people who are doing their everyday chores away from the frequently hectic summer tourist season. Here are 10 beautiful winter vacations in Europe any traveler should be taking.
10/10

Visit The Mesmerizing Interlaken In Switzerland

Some places, like the Swiss resort town of Interlaken, just appear to be created for winter travel. Despite being located in a valley, the town is close to many high Alps peaks and is a well-liked spot for outdoor sports.

After all, tourists want to make the most of the Alps while they are right outside their door. Interlaken provides the comfort of easily accessible alpine sports from the ease of a town with the amenities to satisfy every need.
9/10

Get Enchanted By Aurora Borealis At Abisko, Sweden

There are many activities tourists can do in the winter, but one of the most romantic is to watch the northern lights dance across the sky. It is difficult to beat a location like Abisko for an excellent viewing location of this incredible event.

Abisko is a little community in Swedish Lapland that is perfect to see the northern lights due to its proximity to the poles. Additionally, winter is the ideal time of year to look for the Aurora Borealis, not because of the frigid weather but due to the length of the evenings.

Santa Claus also lives in Lapland year-round.

Related: 10 Lesser-Known Destinations In Europe That Shouldn't Be Overlooked
8/10

Travel To The Wonderful Rovaniemi, Finland

One of the top winter vacation spots in Europe, Rovaniemi is kind of the ideal location for anything Arctic. There, travelers may meet Santa, acquire a unique passport stamp, and hang out with some real reindeer. It is difficult not to get carried away by this fantastical setting.

Travelers can also visit the Arktikum Science Museum for an up-close and personal look into history, culture, and nature to discover more about the area and the Arctic.

They can also go sledding with cute and active husky dogs for something more exciting. Additionally, the captivating northern lights can be viewed in the city.
7/10

Tour The Bewitching Barcelona, Spain

Barcelona is a great cultural hub. Tourists may celebrate New Year's Eve the Spanish way in addition to seeing this amazing city. This entails joining neighbors to watch the fireworks and partaking in the custom of eating 12 grapes at midnight for good fortune in the upcoming year.

There are additional benefits to visiting Barcelona in the winter. To begin with, the city is considerably warmer than the rest of Europe, making it easier to spend time outside. It is still challenging to get bored in a city like Barcelona.

So a winter city trip here is a terrific option, whether they want to explore the Gothic Quarter or try some tapas.
6/10

Wander Through The Mystical Budapest, Hungary

Budapest appears strangely well-suited to the short days of winter. These days, Budapest is well known for its expansive thermal spas, where guests from all walks of life converge to soak. They are enjoyable and lifesavers for keeping warm beneath the water.

Snacking on warm delights like chimney cakes and other holiday fares at nearby Christmas markets are two more methods to stay warm. Alternatively, tourists can embrace the cold by engaging in enjoyable activities like ice skating while viewing Vajdahunyad Castle in the distance.

Related: 10 Most Beautiful Snow-Covered Towns To Visit In Europe This Winter
5/10

Shop At The Best German Christmas Market In Nuremberg

Germany is regarded as having the best Christmas markets, and Nuremberg is home to the best of the best. One of Germany's most well-known festive markets is located in this Bavarian city, transforming the beautiful medieval old town into a fantasy kingdom.

However, there is more to the Nuremberg Christmas markets than just food and drink. They provide a wide variety of prospective gifts and souvenirs, including everything from Christmas ornaments to exotic trinkets.
4/10

Discover The Austrian Winter At The Jaw-Dropping Salzburg

Austrians love the holiday season, so taking a trip to a popular location like Salzburg is a surefire win. The city is busiest at this time of year since festivals and celebrations are happening every day.

All of this adds to the list of must-see locations, which already includes the Mirabell Palace, the Hohensalzburg Fortress, and the Old Town neighborhood with classical music filling the air. Tourists can also celebrate Silvester, a long-standing event on New Year's Eve, by dancing in the streets as fireworks explode overhead.

This time of year, Salzburg also enjoys the yearly Winterfest circus carnival, which gives this cultural experience another layer.
Winterfest dates:
From December 1, 2022
,
to January 8, 2023.
3/10

Embrace The Winter Of Tallinn, Estonia

If travelers visit this Baltic capital in the winter, they are in luck since Tallinn takes on a charming, almost fairytale-like character. This is supported by the presence of the Old Town Christmas Market, which features a huge Christmas tree and cozy lighting.

Another motivation to brave the cold weather outside is the opportunity to go ice skating in a location like this. Since Tallinn can sometimes get rather chilly in winter, it makes sense that people enjoy a decent sauna and spa during that period.
2/10

Enjoy Your Winter Vacation In Prague, Czech Republic

Without a doubt, Prague is one of Europe's most opulent cities. Even a tiny covering of snow might make this city of old-world grandeur, architecture, and culture appear more evocative than it would under the clear sky. Prague is a city rich in culture, but it is also a pleasant location to visit due to its love of beer and partying.

Not to be missed is the city's well-known European Christmas market, where tourists may enjoy the holiday cheer while sipping on hot mulled wine and the local grog.
1/10

Explore Strasbourg, France

There is a strong probability that when travelers think of France, they only imagine Paris and the French Riviera. However, France is such a diverse nation and a place like Strasbourg makes an unexpectedly good winter trip.

Strasbourg is a stunningly beautiful medieval city with quaint half-timbered homes, magnificent old churches, and picturesque waterways. Strasbourg likely comes to mind when travelers picture a charming medieval town covered in snow.

They can concentrate on sightseeing during their trip, taking in the famed Christmas market and distinctive Alsatian countryside.